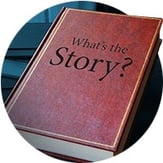 If you missed my recent webinar on the 15 essentials that your stories need to be powerfully motivating, I've got good news for you!
You can now access the entire FREE fundraising webinar recording HERE.
It's a fast, fun, informative webinar for any organization, large or small. Why not have it with a salad at your desk over your lunch hour? (Full disclosure: Eating lunch at your desk while working is actually a no-no, which I'm pretty sure I learned during a webinar … while I was eating lunch at my desk.)
Of course, no blog post worth its salt (nor blogger) would pass up the chance to offer a sneak peek. So here's one little tidbit. I polled the attendees on which fundraising stories are harder for nonprofits to tell — success stories or ones that are need-based: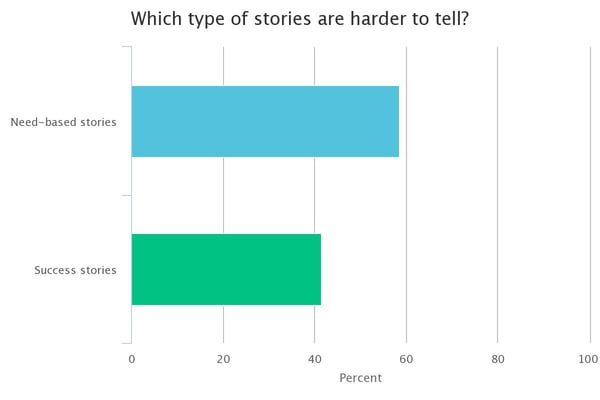 I'll admit I was surprised at how evenly split the results were. I thought it'd be more like a 75/25 split with success stories being harder to tell. Why? Logistics. There are a bunch of them when it comes to following up with someone long after the point of help or service provided. Then again, I'd say 99.9% of the people I've interviewed for success stories are thrilled to speak to me as a way to pay back the help they received. Note: The remaining 0.1% was an adopted shelter dog who had much more interest in his rawhide than in chatting with me.
There are lots more informative nuggets to uncover in the webinar — plus some very thoughtful audience-submitted questions I answered. Maybe they're questions you've been hoping to have answered, too.
So what are you waiting for? There are 11 months remaining in 2018. That means you've got nearly the entire year to make sure every story you tell from this blog post forward is effectively doing its job: touching your donors' hearts to help deepen their engagement with you.
Get More Insights Into: