Grateful Patients. Generous Donors.
In the health care industry, you touch the lives — and help save the lives — of your patients every day. In turn, patient gratitude for the care they've received very often makes them your most important donor prospects. When you reach out to these key supporters, you need to do so in a highly personalized and thoughtful way.
The TrueSense Donor Engagement Team (formerly the Fundraising Division of Harris Connect, LLC) has many years of experience and success in acquiring grateful-patient donors through our multichannel outreach program. Our communicators have been talking with and listening to donors for the last 15 years. This vast experience and flexibility to adapt to the changes in health care has made us the market leader in grateful-patient fundraising.
Our Multichannel Grateful Patient Engagement Program
Our unique Grateful Patient Engagement Program consists of a series of highly personalized letters, strategic phone calls, and digital outreach. This program has significantly outperformed single-channel, grateful-patient programs.
At the heart of the Grateful Patient Engagement Program's success is our time-tested, grateful-patient data model, which analyzes behavioral factors, publicly available financial data, and giving history in order to identify likely donors. The model looks not just at wealth, but also at other key factors that we have found to be good predictors of the likelihood of making a gift to health care.
Our expert callers become an extension of your development staff, explaining your case for support and building on the already established relationship with your patients.

Testimonials
MARIKA V. JONES
President of UnityPoint Health, Trinity Health Foundation
[fa icon="quote-left"]

[fa icon="quote-right"]

Whenever there was a trend in the data, or if we had any kind of concerns in what we were seeing, we got immediate responses. They analyzed the data, looked at the phone calls, and then came back and made recommendations on how we could make sure things stayed on track to hit our goals. I really appreciated the professionalism and responsiveness of the staff.
GEORGE MAYNARD
Vice President of Philanthropy & Partnership, Greenville Hospital System
[fa icon="quote-left"]

[fa icon="quote-right"]

In the past two campaigns, we've seen an overall increase of more than $100,000 in annual giving, and our philanthropic platform has grown as a result of their innovative, multichannel approach to connecting with our prospects. They are a valuable partner in our growth and sustainability.
Acquisition Is a Long-Term Investment
Acquiring new donors is important, and moving them through the donor pyramid while creating long-term value is critical for the greatest return on your investment. When our clients have looked to us for ongoing gift renewal, we found that our retention programs have increased return on investment considerably.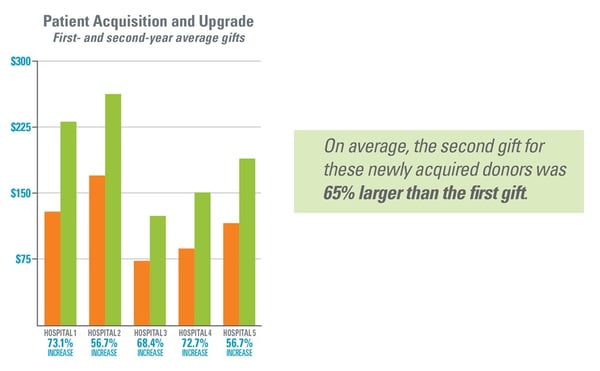 Following our grateful-patient outreach, one client tracked their return on investment over nine years. The donors that were acquired through our program gave over $11 million to the organization during the nine-year period.
For clients who do not have their own annual communications program for new donors, we have also developed an ongoing cultivation and stewardship program — beyond our initial grateful-patient acquisition — that is engineered to maximize the value from your upfront investment.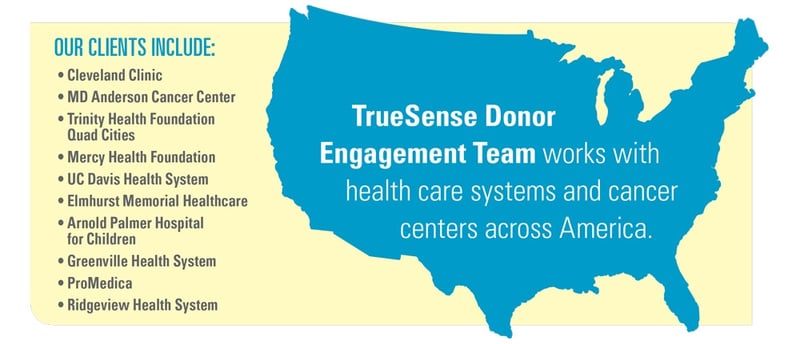 Learn how our innovative, industry-leading programs can help you reach more donors and raise more money. For more information, contact Jay Finney at 757.537.6860 or Jay.Finney@TrueSense.com.