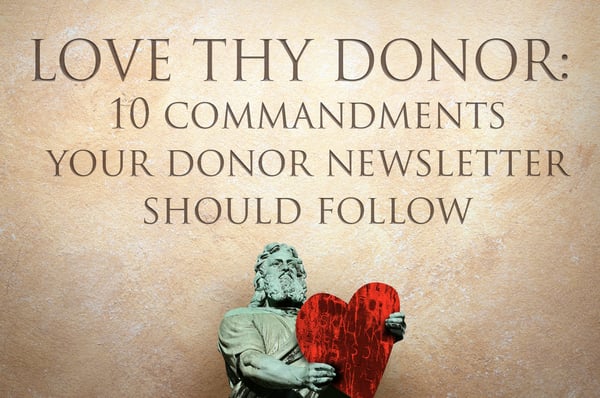 If you missed our recent webinar on the 10 commandments your donor newsletter should follow, we've got good news for you! You can now access the entire FREE fundraising webinar recording HERE.
Creative fundraising pros Matt Lorenz, Art Director; Jennifer Miller, Creative Director; and David Torres, Creative Director, share messaging, content, and design best practices to create impactful print and digital newsletters. Following these 10 commandments for donor newsletters will affirm your donor and motivate her to continue her support.
Here's a sneak peek of what you'll discover.
It should come as no surprise that a great donor newsletter has great headlines. Strong headlines create visual hierarchy and enable donors to easily scan your newsletter. (As producers of donor newsletters, we'd like to think our supporters read the content word for word, but that isn't the case!) Maximize your donor newsletter impact by following these 5 rules for strong headlines:
Always contain a strong action verb.
Have multiple elements (kickers, subheads, etc.).
Include conflict.
Include characters.
Address the reader directly.
Our experts give the building blocks to construct a great donor newsletter in this one-hour, free, on-demand fundraising webinar.
Ready to learn the 10 commandments of donor newsletters?
Get More Insights Into: