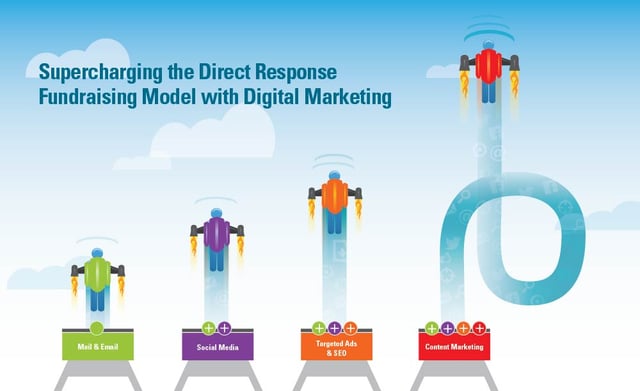 As I looked at the infographic depicting the enhancements that digital fundraising marketing can have on a direct-response program, immediately a song came to my mind: "Leaving on a Jet Plane" by John Denver.
There is an interesting parallel between digital direct-response fundraising and the start of the second verse in "Leaving on a Jet Plane":
There's so many times I've let you down.
So many times I've played around.
There are many direct-response fundraising people who feel the same way about expanded digital marketing — so many times it's let us down.
Digital fundraising today often pays the price of over-promised and under-delivered digital fundraising sales pitches from five years ago. In fact, when comparing a budget and its direct attributable digital revenue against a direct digital expense, those song lyrics are pretty apropos.
Organizations and fundraising leaders often look at budgets and see an expense for email marketing at $1,000 each, for example, and money spent on Facebook as an additional $200 media spend. Comparing the price of $1,200 for a simple email marketing/social media message with only a one-to-one return suggests a very poor ROI. But what if we stopped looking solely at online revenue and instead looked at donor retention rates and other key donor demographics across all channels? When we look at revenue across all channels, the strength of expanded digital marketing aligns with the lyrics in the middle of the verse:
I tell you now, they don't mean a thing.
Ev'ry place I go, I'll think of you.
Ev'ry song I sing, I'll sing for you.
Is digital playing a part in lifting or keeping existing direct mail donors? Perhaps the best question organization leaders and annual fund managers should ask is, "How do I lift the direct-response and direct mail revenue?" A good place to start is by taking a look at the individuals leaving comments and sharing the Facebook paid-custom-audience posts. I did.
One client's recent post, which was creatively aligned with an email fundraising appeal, was served to the full house file. But when I looked at all the comments and shares, and matched the Facebook users' names with the client's donor data, every single response associated with a comment came from a direct mail-only donor. 40% of the post's shares came from direct mail donors. Ev'ry place I go, I'll think of you. Kind of how digital direct-response marketing is working for organizations and our donors these days.
Don't consume yourselves with the individual channel conversions. Instead, focus on bottom-line donor health and ask, "How can digital marketing enhance our direct-response program, even if donors want to continue to give by check in the mail?"
Two takeaways about why your direct-response program needs digital fundraising:
Donors are multichannel. You may ask for a donation via email or Google first-party advertising ads, but the donor may ultimately give via direct mail.
Not all of the donor relationship is asking. You know this already. You need to steward your donors, and digital is a low-cost, high-impact channel — ensuring a higher level of engagement than a direct mail piece, which carries only a 5% response rate and no awareness of a true open rate.
Get More Insights Into: