Telemarketing has devolved to interruptive marketing that is irrelevant, untimely, uncoordinated, and overly aggressive. Between caller ID, cell phones replacing landlines, legislation, and simple consumer choice, there are declines in telemarketing's effectiveness and increases in cost.
It is time for nonprofits to stop telemarketing and start using the phone as a channel to create effective and meaningful communication with donors.
The data from our years of fundraising shows that the telephone is the most effective fundraising channel for maximizing gifts, understanding donor preferences, inviting donors to sustaining relationships, and thanking donors. This is a big shift in thinking about how to use the phone — and a very different approach than telemarketing.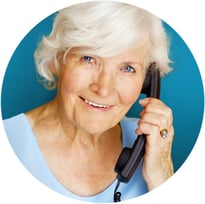 Want to listen in on real conversations with donors? Click HERE to hear our professional communicators build relationships with your donors over the phone.
7 Tips to Succeed at Telephone Fundraising:
Stop predictive dialing. Nothing says you don't care more than when a donor picks up the phone and no one is there. The pause while an answered call is searching for an available agent is deadly. It significantly increases hang-up rates and will immediately change the tone of the communication.
Use a designated, well-trained caller cadre. This is how most companies maximize their ROI on your telephone program: by focusing on handle time, average call time, and dispositions per hour. And they will run multiple programs across their call floors, trusting the script to guide the caller. Communication with donors should be from a specific caller team, dedicated to and educated on your mission, needs, and most importantly, case for support.
Conversations — not scripting. Utilize a framework for call flow and multiple case points for discussion, but do not script your calls. A phone call needs to be a two-way conversation that focuses more on listening than speaking. Experienced callers focus on being good listeners and are able to have these natural, two-way conversations with donors. This is important, because there is a direct correlation between length of conversation and the likelihood of the donor making a gift.
Use the phone for more than just "asking." Just like with mail, media, and digital, don't hesitate to use the telephone for stewardship too! Most importantly, use it to thank donors. This is a great way to introduce the channel if it has never been part of your fundraising strategy. It is also extremely effective for surveying donor preferences. Ask your donors about their preferred channels for communication, preferred communication frequency, donor intentions, and how they prefer to give.
Take a multichannel approach to using the telephone. Send a letter that tells the donor you plan on following up by telephone. Send informative, personalized emails about your telephone conversations. The telephone should be integrated into your communication strategy.
Take a measured approach to frequency. When in a calling campaign, it is critical to rotate time of day, day of week, and length of time between attempts to reach a donor. This approach maximizes contact rates and prevents your donors from taking out a restraining order on you.
Don't be afraid of the phone. Your organization is already using the telephone. Gift officers are using the phone to communicate with your most important donors every day. Through donor analytics and an expert group of communicators, you are able to expand the personal touch of the telephone channel to a larger portion of your donor base.
All of these tips will help dramatically improve the effectiveness of the phone as a channel for you. And your donors will appreciate the personal touch. While the costs are higher than traditional telemarketing, employing these strategies will result in more donor engagement, more giving, and happier donors.
The telephone can be added as a fundraising channel for any part of the donor pyramid.
Find the parts of your fundraising program where you are trying to have the greatest increase in results and focus your telephone efforts there.
Get More Insights Into: