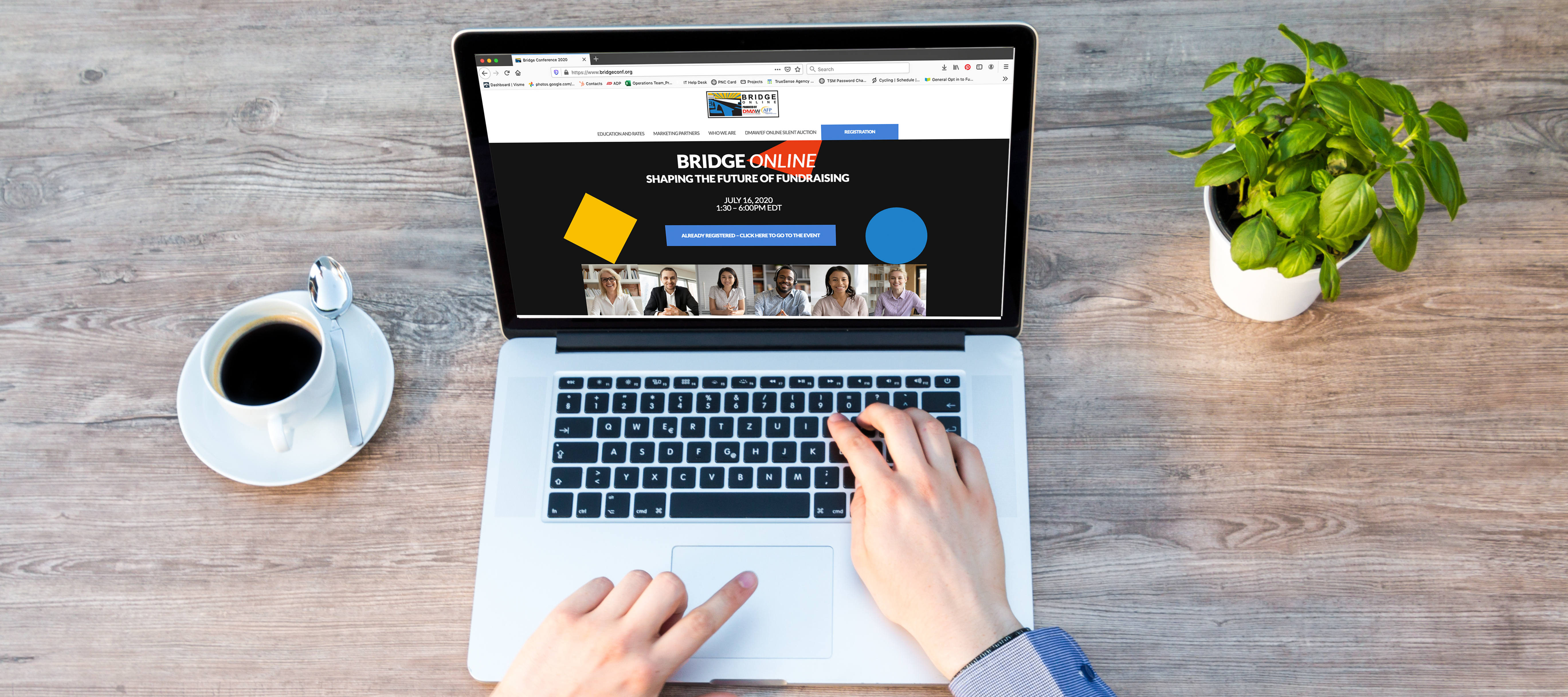 This year, the annual Bridge to Integrated Marketing & Fundraising Conference went virtual. On July 16, the nation's largest professional gathering for nonprofit fundraisers and direct marketers became Bridge Online: Shaping the Future of Fundraising.
This year's conference was not without some technical difficulties. But in 2020, you'd be hard-pressed to find a more sympathetic crowd than the Bridge Online audience!
After all, today's marketers and fundraisers have spent the past four months pivoting, adapting, and just plain starting over since the COVID-19 pandemic capsized their best-laid plans. Pioneering virtual event technology comes with the territory, and Bridge attendees remained largely sympathetic and supportive to the technical mishaps. My fellow attendees filled their virtual chat boxes with friendly, encouraging chatter while the conference organizers bustled behind the scenes.
Once the conference got rolling, it delivered a jam-packed afternoon of live and pre-recorded presentations and live chats. Unsurprisingly, COVID-19 was a recurring theme in the day's discussions.
Experts brought new findings and new ideas for the COVID-19 era. Donors are spending more time online, of course. That includes older donors, and retirees, who are taking a brand-new interest in webinars, virtual chats, and other forms of online engagement.
Other experts pointed out that the pandemic is changing how we perceive what we see online. In the educational session "Mobilizing for Our Changing World," presenters pointed out that during these times of social distancing, video ads showing lots of hugging or people in close quarters can make viewers uncomfortable. But on the plus side for fundraisers, viewers are no longer expecting to see slick, expensive productions. Brands are seeing great success with home-grown productions filmed on a phone inside someone's home. Donors aren't seeing them as unpolished, but rather authentic.
And while the pandemic has brought new fundraising challenges, Keynote Speaker Rohit Bhargava urged fundraisers to see new opportunities. While so many people are home and online, he suggested, show them what's going on behind the scenes of your charity. Reach out to those who were previously unreachable — like celebrities whose schedules have suddenly opened up — for potential support or engagement.
And, he said, be ready to pounce on timely opportunities. For example, those donors who panic-purchased too much toilet paper may be ready to donate a generous supply to a nonprofit in need!
My colleagues and I came away from the day buzzing with new ideas, and validation that we're helping our clients stay ahead of the curve.
Amanda Greenlund, Account Manager at TrueSense, enjoyed a session about donor stewardship and cultivation in the time of COVID-19. She said, "One of the sessions I attended talked about the popularity of personalized video messages. One of our Food Bank clients is doing this, and it's super cool! We have to continue to think creatively and out of the box since in-person communication and events are no longer the norm."
Megan Carder, Managing Director, added, "In one of the sessions I attended, someone asked whether the presenters had tried any sustainer conversion strategies since acquiring new COVID-19 donors. They had not, but thought it was a good idea. It makes me feel good to know that at TrueSense, some of our clients have already been implementing sustainer conversion as a primary tactic for COVID-19 donor retention."
Fundraisers can't know what 2021, or even the rest of 2020, will bring. But we know our donors want to help — by feeding the hungry and hurting, advancing medicine, and ending suffering in so many different ways. We logged out of Bridge Online feeling encouraged, inspired, and ready to help our donors do just that.
Get More Insights Into: