When considering which fundraising channel to use for your donor acquisition initiatives, it is important to think about your short-term and long-term goals.
Some channels, like DRTV and radio, have high donor long-term value, but they may hurt your short-term net income. As you craft your donor acquisition plans, have an idea of your risk tolerance versus the potential fundraising income.
The channel you choose to acquire new donors does impact the net long-term value.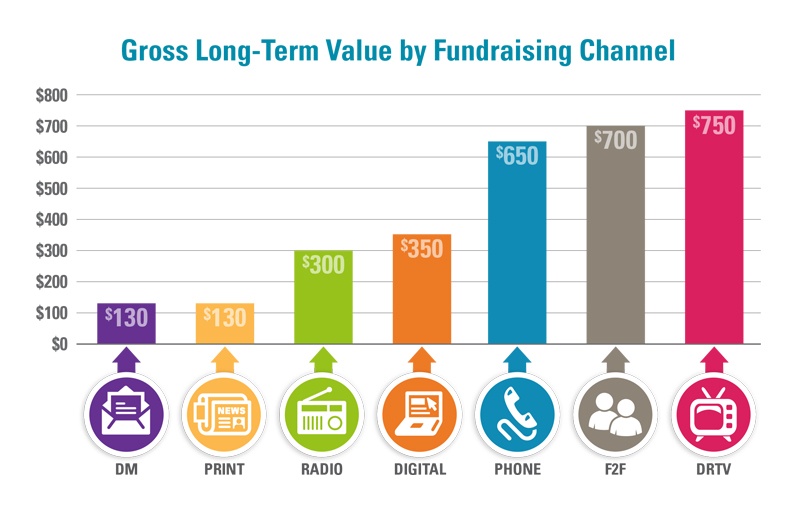 Most organizations are familiar with how and where digital and direct mail can be used for donor acquisition.
Direct Mail Fundraising
Most organizations have a large direct mail program, as this is the fundraising channel with the least amount of risk and the smallest required investment. Of course, there are no guarantees. Successful charities test creative, offers, and list strategies, but the risk is minimized compared to other channels. Even if a direct mail campaign were to end up with a ROI of 0.2 — a complete failure — the investment lost would be low.
Digital Fundraising
In addition to serving as a direct response acquisition channel on its own, digital is also an effective response channel that supplements your acquisition efforts across all other channels and helps to ensure consistent messaging. Organizations should optimize their SEM and SEO (if you have a Google Grant, even better!), so donors who are introduced to you in other channels can easily find you to learn more about you and eventually give online.
Utilize retargeting—If a prospect goes to your site or donation page and doesn't give, continue to serve them ads to work to convert them.

Incorporate social—There are ways to target prospects you mailed via Facebook advertising (just make sure you have the lists you're renting's permission!).

Build out content marketing pages which can be tied into your programs, used in SEM and SEO, and can be an additional source for retargeting.
The ultimate goal of digital acquisition is to find a PUSH channel which delivers the highest performance using the same metrics as we would with direct mail acquisition. Cost per donor measured against the donors' LTV using retention metrics for the medium is absolutely critical when it comes to optimizing the digital acquisition budget. Digital first-gift donors have different second-from-new and multi-year retention rates. Recognizing that, our approach to digital acquisition involves constantly testing strategies and tactics that would allow us to say, if you spend $X, based on past results we know you can expect to get Y number of donors and $Z amount of revenue—within a 5-10% range of accuracy and with a sizable volume.


But other channels and media create unique opportunities, if budgets permit. Here are a few to consider.

Telephone Fundraising
Phone is the best channel for warm prospect conversion — volunteers, pet adopters, grateful patients, lapsed donor reactivation, etc. Also, phone is a great way to reactivate donors acquired via broadcast channels, because most actually called to make their initial gift. Higher-dollar donors are also receptive to telephone fundraising, as it adds an additional element of communication and develops a stronger relationship.
Print Fundraising
Print performs very much like direct mail in terms of the long-term value of donors acquired. Not all print channels are successful, however. The greatest, most consistent success is seen in using free-standing inserts (FSIs) in paid, subscriber-based newspapers on weekdays. Utilizing FSIs in free community newspapers historically isn't successful — which is contrary to what most would think. When tested, most of the time little to no response is received! So even at the low cost of community newspapers, the cost per donor is astronomically high! Typically, on-page advertising in newspapers is not a successful direct-response fundraising strategy either, except in the case of disaster fundraising.
Radio Fundraising
Most nonprofits find radio to be a difficult direct response fundraising channel due to the upfront investment needed to make radio "work," which may require testing of different radio station formats, fundraising formats, and calls-to-action. To fully benefit from radio, a 24-hour call center should be utilized to accept donations. Many stations limit campaigns to recorded spots and don't offer a live, radiothon format that performs best. If forced to use pre-recorded ads, I only recommend paying for 60-second spots and ensuring the schedule will achieve a frequency of 3.0 or higher. This statistic is available from the radio sales rep and essentially tells you that, based on the schedule, the average person would hear your ad three times during the campaign. Because of the lack of flexibility and formats, most nonprofits find that radio is really only successful as a branding tool.
Some charities have great success with radio, particularly those who develop a relationship with a radio station and host annual radiothons. It is important to note that a lot of time and resources are required to build these programs. Over time, they can be quite successful. Here are some tips for a successful radiothon:
Share professionally-recorded stories on air of the people being helped.
This is a multiyear strategy! Radiothons improve year over year as the program is tweaked.
Real-time reporting via the call center back to the listeners creates urgency.
Have a goal that is tangible. (Example: $10,000 will provide 700 meals for people in our community.)
Utilize a strong call center to help with real-time reporting, consistency of messaging, and gift upgrades. Find other avenues for your volunteers to help with the radiothon.
DRTV Fundraising
DRTV is one of the only channels to acquire new monthly sustainer donors. These monthly donors who are committed to your mission have high long-term value. Just like with radio, DRTV fundraising requires a good call center that's available 24 hours a day.
Successful DRTV fundraising ads do not follow the typical format of a television spot, but should be styled more similarly to a documentary and should be two minutes long. The spot needs to be emotional and should create a gulf between the need and the offer. Many charities are hesitant to start fundraising through DRTV because of the high investment needed up front ($150K-$250K for the production of the spots and $50K-$75K for media costs) and the low success rate out of the gate. Continued testing and tweaking over one to two years before the high net long-term value of the acquired donors should be expected.
Face-to-Face Fundraising
All donors acquired through face-to-face fundraising are monthly sustainer donors. This street canvassing effort has low set-up costs, and most companies only charge for the donors who are acquired after they make their second gift.
---
This is the last post in a seven-part series about WIN — new donor acquisition, warm prospect conversion, and deeply lapsed reactivation. Subscribe to Heroic Fundraising to have fresh fundraising insights delivered to your inbox monthly.
Series Posts
Get More Insights Into:
Donor Acquisition Direct Mail Fundraising Multichannel Fundraising Digital Fundraising Telephone Fundraising