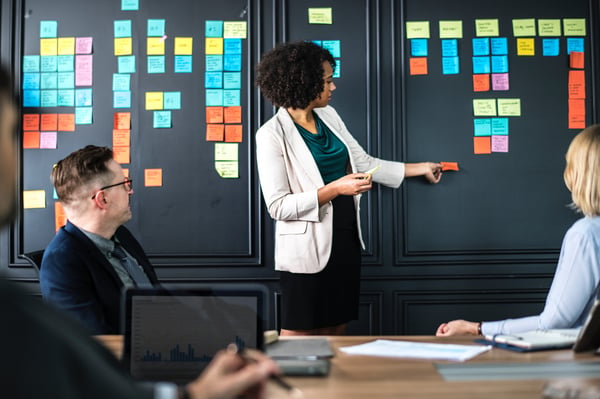 The pressure is on for nonprofit professionals to demonstrate and justify a return on investment from a diverse portfolio of campaigns and channels. To get the best possible return, it is important to address constituents with multi-channel options and the correct channel mix.
The more we understand donor channel preferences and coordinate our communication efforts for seamless and personal engagement, the better our results. Today there are more ways to reach donors than ever before, and we certainly expect the number of channels will continue to proliferate in the future. Embracing multi-channel planning is not only a good idea, but a critical one.
As fundraising professionals, we face the following challenges in multi-channel fundraising:
Targeted Messaging. Due to the abundance of channels and choices, not only do we have to deliver the right message to the right audience, but that audience should be attentive, receptive, and willing to respond regardless of the channel. We must be able to determine which channel or channel mix would be most effective while considering constituent preferences.
Campaign Coordination. To reach donors in their preferred channel, and on their preferred device, we need communication plans that span multiple channels in a way that our donors find relevant and engaging. This requires a lot of internal coordination and planning among different channel stakeholders and departments.
Attribution. It is increasingly difficult to determine which channels or sequence of touchpoints led to a donation. Add to that the challenge of analyzing across multiple platforms and data sets. As the number of communication choices continues to increase, the ability to

effectively

decipher the most appropriate message/medium/preference combination will prove vital in fundraising strategy.
Despite today's challenges, fundraisers can still plan, execute, and measure successful multi-channel fundraising campaigns. While the exact plan will vary by charity type, budget, offer, etc., there are tried and true practices for planning winning campaigns.
6 recommendations to build effective multi-channel fundraising campaigns:
Establish a means to analyze data across all platforms in order to define a single donor across channels. Fortunately, there's more data and analytic tools available to make smarter decisions. However, too many times these efforts are inhibited because data resides in separate CRM platforms or data sets with limited connectivity, making integration difficult when analyzing and planning at the Program or Campaign level.

This remains a challenge for many nonprofits, which is why we've created an integrated agency database that allows us to connect our clients

'

data and generate usable insights. Then we consider the role each channel plays based on the historical data and use these insights to develop the Annual Multi-Channel Plan as well as the Five-Year Growth Projections.
When building the plan, begin with audience definitions and channel preferences. Understand the donors

'

value to you, their channel preferences, the historical channel mix that's delivered the best return, and how the donor interacts with your organization. What are your priorities in terms of audience groups?
Bring channel specialists together to discuss and develop the overall Annual Plan as well as the campaign strategies and tactics. We develop Annual Plans for every client; these plans include audience priorities and channels to be incorporated. The Annual Plan is based on our clients

'

fundraising goals and objectives, which drives the overarching strategies and tactics for each audience segment and the channels within the corresponding program (Mid-Level, Renewal, Acquisition, Reactivation, Sustainer, etc.). By developing this plan with all channel experts involved from the beginning, we are better able to set up campaigns to measure and track performance for audience groups and integrated strategies.
Synchronize scheduling and messaging. The Annual Plan is translated into the Marketing/Communication Calendar. This calendar aligns each audience segment with each channel schedule to ensure a fully coordinated communication plan. Typically, there is a base or primary channel: the channel that results in the bulk of your revenue and usually represents the bulk of your investment. Often, but not always, this is direct mail. Using that as a foundation, we then build out efforts using other channels around that baseline schedule.
Ensure consistent messaging. One of the most common mistakes in developing a multi-channel strategy is the failure to provide consistent messaging. That's not to say that every communication must be the same appeal or contain the same content. It means that the overall message and image you want to convey should be consistent across channels. Your client service, creative, and strategic practice teams should regularly convene to determine where it is impactful and best practice to integrate channel campaigns, where it is appropriate to isolate channel efforts, and how we can motivate constituents to give in more response channels (inclusion of OVM, email follow-up, retargeting, Facebook wrap around, etc., where appropriate).
Envision the comprehensive donor experience. It's important to think through the donor experience and ensure that, regardless of the medium you are using, you've closed the loop regarding response and channel preferences. A donor who receives a direct mail appeal shouldn't go online to discover a donation page that is inconsistent with the offer. We know that multi-channel donors are not created. They self-identify when given the appropriate access to their response channel of preference.
By recognizing the challenges of multi-channel fundraising — including targeted messaging, campaign coordination, and attribution — and using the recommendations above, you can begin to plan, execute, and measure successful campaigns. Knowing your donors and their preferences is vital in today's fundraising landscape.
---
This is part of our blog series about multichannel fundraising. Subscribe to Heroic Fundraising to have fresh fundraising insights delivered to your inbox monthly.
Other Series Posts
Get More Insights Into: