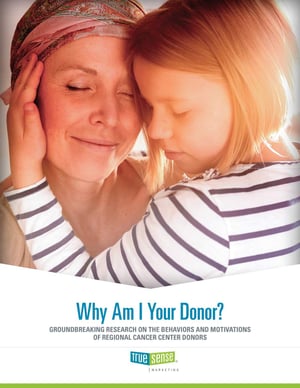 Any organization can determine who their donors are. But the bigger question is why their donors support them.
In August 2017, TrueSense Marketing produced a quantitative donor research study through Grey Matter Research & Consulting. The findings were surprising, insightful, and inspiring. So, when we asked cancer charity donors why they were your donors, this is what they said …
4 Reasons Why Cancer Center Donors Support You
"Because I am a Cancer Warrior."

Among donors to local cancer centers, the average (stated) amount given was $311, with a median of $100. But this represented only 41% of all their cancer-related giving! They averaged $765 in total giving to cancer charities, the balance going to national research funding organizations (such as American Cancer Society, Susan G. Komen for the Cure, Leukemia & Lymphoma Society, etc.).

In fact, only 11% of all cancer donors named a local cancer center as their exclusive or primary cancer charity, and donors to local cancer centers were especially likely to have given to multiple organizations as well (81%).

Most donors had given directly to a cancer-related organization (91%), but 57% had also done something else. This included fundraising events or activities (34%), personally asking friends or family to contribute (31%), volunteering (24%), and acting as a fundraiser for the organization (5%).

Take-away: It is important to realize donors are cancer warriors for giving at the level they do to fund more cures — regardless of where they give. Rather than trying to wrestle all their philanthropy from their other (larger/national/type-specific) cancer charities, we should simply strive to consistently stay in their line of sight in order to secure a greater wallet-share of their overall giving. Cancer centers must deploy specific strategies to claim more wallet-share from their cancer warriors' total giving spend.
"Because I know you."

Only 34% of all cancer charity donors were very familiar with their local cancer center, with another 35% somewhat familiar with it. Twenty-two percent had only heard the name, while 9% were completely unaware of it. Familiarity was especially low among donors who focus on Susan G. Komen or American Cancer Society for their giving. Most local cancer center donors (75%) had, to some degree, considered giving those funds to a national organization instead.

Take-away: While awareness isn't everything, cancer donors won't give to an organization they've never heard of. And competing with national mega-brands for the attention of direct response donors in the national marketplace is fruitless. But regional cancer centers have a marketing and brand obligation for cancer treatment services and patient care, which often sits parallel to fundraising obligations. This represents an important differentiator from mega-brands. Brand-awareness marketing that promotes a cancer center's clinical opportunities and treatment should also simultaneously promote the importance of public donor support.
"Because I have experience with cancer."

When asked to describe why they gave, donors whose primary or exclusive cancer organizations were local cancer centers were particularly motivated by having been helped by the organization (self or loved one) and the fact that it is local.

Take-away: You have an internal warm prospect donor pool that the national organizations do not have: your patients and their immediate caregivers. In a crowded marketplace, with both national mega-brands and local regional centers vying for a share of the cancer warrior's wallet, this is another critically important tactical differentiator. A grateful patient strategy is an essential driver for growth.
"Because I know we will win this fight!"

In total, 59% of all cancer charity donors believe we'll find a cure for cancer in their lifetime. Those who have experienced cancer at the closest proximity are optimistic that "winning" is going to happen. And over 75% disagreed with the contention that they were paying less attention to the "find a cure" message.

Take-away: Your best donors are not tired of the cure message. So all communications with donors should include stories and elements that reinforce to donors that they are joined with you as a team, and that together you will make the "wins" happen — especially in your own shared community.
Download your free copy of the cancer center donor research report.
Get More Insights Into: