Now that you understand the basics of donor segmentation and targeting, let's flash forward to something more complex — donor lifecycles.
As we explore today's topic of donor lifecycles, I will attempt to leave bread crumbs along the way that will lead us back to one possible answer for the question that so often seems to bubble-up among direct-response fundraisers: "What role can analytics play?"

What are donor lifecycles?
Simply put, a lifecycle is a fiscal year-defined grouping of donors based on their prior giving behavior across several fiscal year periods.
Lifecycles use fiscal year because:
Agencies use fiscal year to build their clients' annual budgets.
Charities use fiscal year to report their annual results in their 990s.
Fiscal year is the unity of time used by nonprofits to evaluate the success of their strategies for most direct-response efforts.
This definition of lifecycle fits exactly with the criteria outlined in my previous post on donor segmentation and targeting for what makes good segments.
Why should fundraisers pay attention to donor lifecycles?
Donor loyalty is a tricky concept to pinpoint due to the serendipitous nature of charitable giving. As all of us working in nonprofits know, loyalty is challenging to quantify and understand. Plenty of well-intentioned fundraisers, agencies, and solution providers have tried to quantify the motivators and drivers for charitable giving — and all have failed.
Why do I say they failed? Well, we wouldn't still be using RFM (recency, frequency, monetary) predictive models and, yes, even lifecycles if anyone had been successful in finding a more effective way to target donors in an ROI-positive way.
Ultimately, the reasons people give are nearly as unique and varied as their fingerprints. While our industry continues to fumble its way toward "donor-centricity," "constituent journey maps," and other customized plans for communication, the looming elephant in the room is that to truly do these individualized marketing approaches well requires a massive amount of data and data integration — the likes of which very few, if any, nonprofit organizations have at their disposal today.
In the meantime, what we do have at our disposal are vast and consistent behavioral (transactional) data sets. While imperfect (We could debate the merits of using transactional data all day.), these data sets can be leveraged within various analytic frameworks to be quite useful as guidance for formulating evidenced-based strategies for nonprofit organizations.
As with any analytic framework, there tends to be misunderstanding across our industry to what it is and how it should be calculated. So, let me establish that here.
The typical breakdown of donor lifecycles are as followed*:
New Donors (First gift on file ever was this fiscal year.)
Second Year from New Donors (First gift on file ever was last fiscal year.)
Second Year from Regained Donors (No gift two fiscal years ago, but gave a gift last fiscal year.)
Multi-Year Donors (Gave a gift last fiscal year, and in the two prior fiscal years to last.)
13–24 Month Lapsing Donors (Did not give last fiscal year, but gave in prior fiscal year.)
25+ Month Lapsed Donors (Has not given a gift in at least two, or more, fiscal years.)
*Please note: Other naming conventions exist.
For anyone new to this, that's a dizzying list for sure — but it all makes sense in the end. I promise.
How donors flow through a lifecycle model is critical. This movement is called migration. Migration from one lifecycle to the next only occurs at the start of a new fiscal year, and is determined in a very binary fashion.
Did this donor give in the last fiscal year period: yes or no? It's really that simple.
To show you how these lifecycle definitions flow, examine the figure below.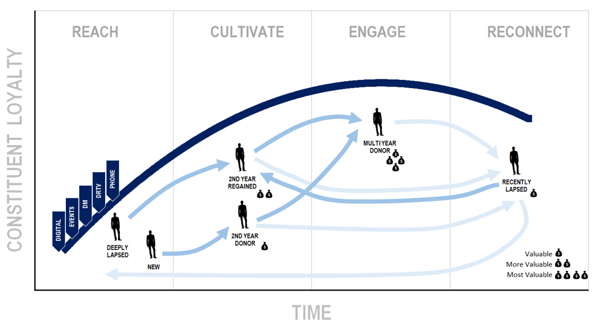 What you can see here is how donors migrate from one lifecycle to the next, where the dark blue lines represent migration if they gave last fiscal year, and the light blue lines represent migration if they did not give last fiscal year.
The relative value (bags of money) and loyalty (height on the Y-axis as measured by the consistency of their financial behavior) is also displayed at each step along the way on the X-axis (time).
Wondering how this helps us as direct marketers?
Here's a quick example: A charity might run a report to isolate their high-value audience. Filtering for both new and repeat donors who gave within the last six months with an annual cumulative giving of $25–$49 would produce the following results:
| | | | | | | |
| --- | --- | --- | --- | --- | --- | --- |
| | UNIVERSE | GIFTS | REVENUE | RR% | AG$ | GIPN |
| Total | 47,988 | 1,412 | $33,867 | 2.94% | $23.99 | $0.71 |
RR% = Response Rate Percent
AG$ = Average Gift Amount
GIPN = Gross Income Per Name

However, the true driving force behind the success of this segment (0–6 Month, $25–$49 Cumulative, Single and Multi) is more clearly identified when the charity also considers lifecycles:
| | | | | | | |
| --- | --- | --- | --- | --- | --- | --- |
| LIFECYCLE | UNIVERSE | GIFTS | REVENUE | RR% | AG$ | GIPN |
| New Donors | 619 | 21 | $560 | 3.39% | $26.67 | $0.90 |
| 2nd Year New | 14,666 | 263 | $7,974 | 1.79% | $30.32 | $0.54 |
| 2nd Year Regained | 11,363 | 216 | $4,900 | 1.90% | $22.69 | $0.43 |
| Multi-Year | 21,310 | 912 | $20,433 | 4.28% | $22.40 | $0.96 |
| Recently Lapsed (13-24) | 3 | 0 | $0 | 0.00% | $0.00 | $0.00 |
| Deeply Lapsed (25+) | 27 | 0 | $0 | 0.00% | $0.00 | $0.00 |
| Total | 47,988 | 1,412 | $33,867 | 2.94% | $23.99 | $0.71 |
Notice the drastic differences in performance for each lifecycle within the segment (0–6 Month, $25–$49 Cumulative, Single and Multi). In fact, 66% of this segment's performance was driven by the most loyal donor lifecycle, the multi-year lifecycle.
What does this tell us about using lifecycles for analysis? When questioned about what (or why) our most loyal donors give, using lifecycle analysis can get you part of the way to the answer. Be on the lookout for my final post in this three-part series, where we'll delve into how lifecycles impact budgets.
"You have brains in your head. You have feet in your shoes. You can steer yourself any direction you choose. You're on your own. And you know what you know. And you are the one who'll decide where to go." — Dr. Seuss, Oh the Places You'll Go
---
This is the second installment in a three-part series about donor segmentation and targeting.
Read more:

Get More Insights Into: