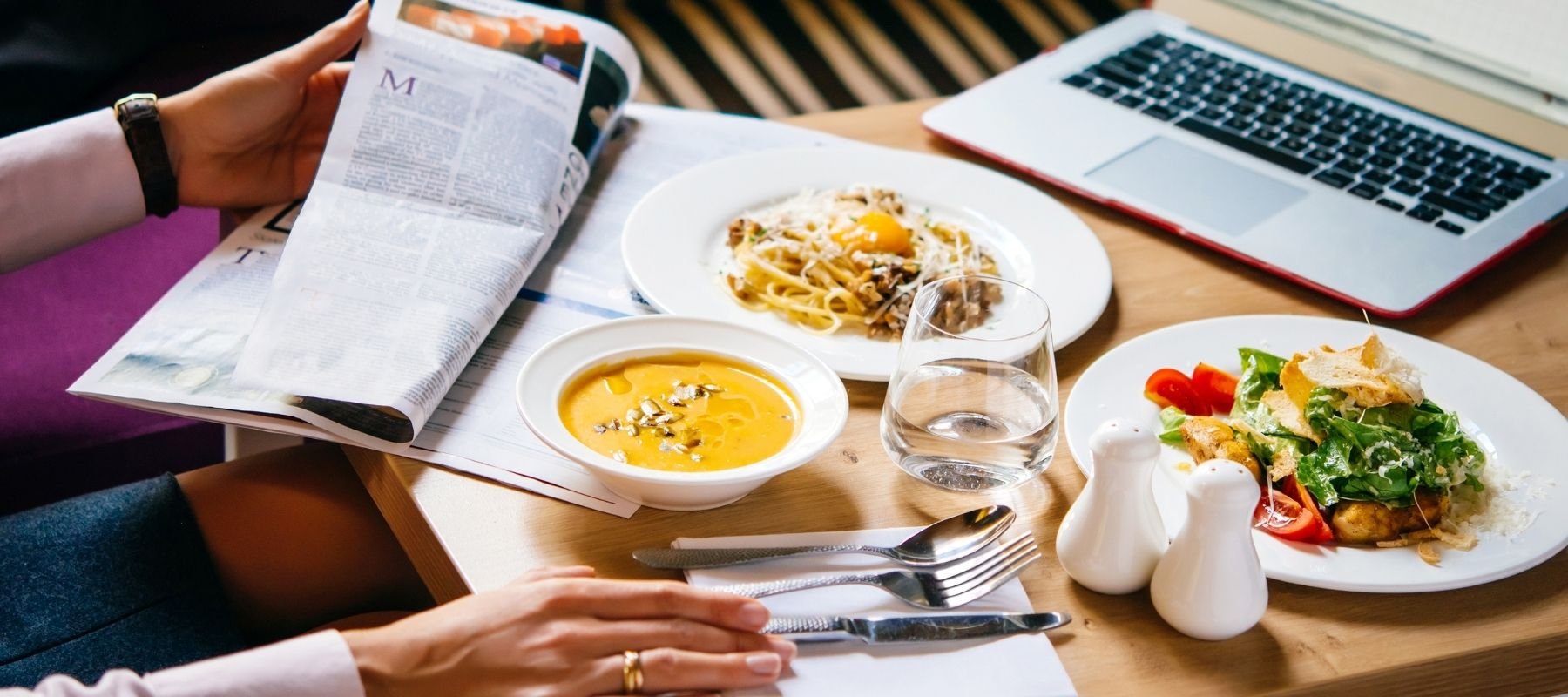 The winter Quick Byte series was jam-packed with resourceful webinars from our very own nonprofit experts. These mini presentations are filled to the brim with valuable knowledge shared in 30 minutes or less. Whether you're a fundraising newbie or a marketing veteran, there's plenty of helpful info to go around!
I hope you joined on an empty stomach, because we've got a 4-course meal on the fundraising menu today. Let's eat:
Presented by Katy Jordan. Special Guest: Edward Strong of Maryland Food Bank
This Quick Byte showcases 2021 in review — and how we can apply what we learned from last year's performance to make 2022 another successful year in fundraising.
Performance:

TrueSense noted a decrease in the number of gifts and total revenue since 2020. This news may seem discouraging at first, but consider how different the giving environment was in 2020 as opposed to 2019. When we compare the metrics of 2021 vs. 2019, the number of gifts, the average gift, and the total revenue has increased significantly.

Strategy Overview:

Across the board, there were three recurring patterns that helped drive success in 2021.

COVID Donor Retention: Many clients focused their efforts on engaging and retaining COVID-acquired donors from 2020. These donors typically had a higher email response rate and gave a higher average gift.
Expanded Digital Media: An increase in the number of media channels and digital media spending. More money was dedicated to digital advertising and the channels in which that digital advertising took place.
Sustainer Growth: Sustainer programs are on the rise — many charities saw an increase in their sustainers.

Digital Maturity: Digitally mature nonprofits benefit from more funding from donors, grants, and other sources. Digital maturity, according to Salesforce, is "an organization's ability to leverage data, to inform decision making, reach new audiences, personalize communications, and forecast fundraising income." Implementing digital maturity won't happen overnight — it's an ongoing process that's constantly evolving. However, starting or progressing this change will offer more points of contact with your donor. People want to control how and when they're interacting with their favorite charities.


Presented by Samantha Jasnos and Elyse Haines

This Quick Byte is all about how you can interact with a donor once they've made their first gift to your organization. A donor welcome series is a vital strategy in building relationships with your donors, encouraging a second (or third or fourth!) gift, and individualizing donor preferences to better cater to your donor.
Timeline: Whether you're beginning a donor welcome series or revamping your current approach, here's how to hook your donors in after they send their first gift:

Immediately after their first gift: Donors should receive an autoresponder email receipt.
Within 24 hours: Donors should receive a slightly more personalized email welcoming them and thanking them for joining your mission
Within 4-7 days: It's time to get the donor involved — offer them ways to stay engaged with your organization, like volunteering or completing a survey. Typically, an ask is not included.
Within 10-12 days: Ask your donor for a second gift and/or to join your sustainer program. The sooner you can get that second gift, the more likely you are to sustain a long-term relationship with the donor — which means more gifts for your organization!
(Optional): To improve donor retention, send two affirmation emails between the 3-to-6-month mark.
At 10 months: Send a reminder to your donor that it's been a while since their first gift — let them know that there's still an ongoing need for their help.
At 12 months: Send a "Happy Giving Anniversary" to your donor, and let them know they are appreciated. Typically, an overt ask is not included, but do include a button to give.
At 13 months: If the donor still hasn't sent another gift, remind them to reactivate their donor status.

Personalization: Creating a donor welcoming series can get complicated fast, depending on how you slice and dice your list. Segment your donors based on individual metrics, but don't make your segments so small that the campaign doesn't produce a good ROI. For example, did your subscriber donate? Or were they just wanting to join the email list? Here, you can either thank the donor for their donation or send them a welcome email with an ask included. Simple as that!
Essentials: What makes a great welcome series? All you have to do is remember the 4 Cs!

Clear: Make it clear where someone can sign up to your organization. Likewise, make it easy for a subscriber to opt out if they want. The goal is to ensure the donor has an experience that's catered to their preferences.
Crisp: Refresh your donor welcome series each year. Don't let the content get stale!
Creative: Adding eye-catching gifs, photos, or videos to your email will help boost engagement.
Cause: Focus your messaging on how the donor is part of reaching your shared vision. Bottom line, they're supporting something they're passionate about —

your cause

. Show them how their gifts will be put to work!
Presented by John Thompson and David Torres
Storytelling is the backbone of fundraising. And this Quick Byte unpacks how fundraisers use storytelling to emotionally connect and engage with prospective donors.
Creative Equation:

Behind every narrative, there are two driving factors — resonation and demonstration. Resonation in the creative sector of fundraising taps into emotional connectivity, giving potential donors the want to donate. Donors see a cause that resonates with them, and they have the desire to take action. Demonstration gives the donor reassurance that you are the best avenue to help a particular cause. It's difficult to align these factors, but when we get that balance just right, we have our creative equation: Resonation + Demonstration = Motivation.

C.R.A.P.:

This acronym outlines the importance of visual hierarchy in effective communication. The main points to consider are as follows:

Contrast: "Avoid elements that are merely similar. Make them really different." The emphasis here is eye-flow. What point do you want to draw the most attention to first? Where will the reader's eye go next?
Repetition: "Repeat design elements to strengthen messaging and visual unity through consistency." Repetition will reinforce the visuals and your main point in a particular campaign.
Alignment: "Every element should have a visual connection with another element in the design to create order and clarity." Consistency is key. Does the visual you include align with the overall message of your campaign, your email, your direct mail? Is there an easily readable flow of information? Is it cohesive?
Proximity: "Elements directly relating to each other should be closer in proximity, creating a stronger association and reducing visual clutter." Negative space isn't always a bad thing! Whatever information and imaging are close in proximity will only emphasize their relationship. Make sure that proximity makes sense.

Strength-Based Messaging:

This final strategy is crucial in ethical storytelling. It's our job to ensure that we are not perpetuating harmful stereotypes when communicating the need of a cause. We don't want to victimize the people we serve. Instead of promoting an "us vs. them" mentality, show how need is a separate entity from the people or community experiencing it. Strength-based messaging is about empowerment. It encourages long-term support and shows people and communities the way they want to be represented.
Presented by Stephen Ferrando and Melissa Roberts
The past two years have been unpredictable. Rising material and production costs are making the already murky waters of fundraising even more challenging to navigate. As we shift from 2021 to 2022, this Quick Byte centers on planning ahead.
The Problem:

There are many pressures hitting the fundraising industry. Inflation is at a 40-year high and logistics issues are delaying our production. Whereas for-profit companies can increase prices for the consumer or remove unprofitable products to keep their business afloat, the nonprofit industry — specifically in the direct mail space — doesn't have the same luxury. This adjustment is much more difficult. Is this making current formats less viable? Are these changes affecting net revenue and ROI? Why is it costing more to do less? There are two avenues that can help us resolve these issues: changing what you send or changing who you target.

Change What You Send:

Make packages less expensive. There are three ways to tackle this seemingly daunting task.

Use prior tests. Get a better idea of the difference that cost inflation is causing when you compare results from past "neutral" tests. It provides a better idea on how the package will perform, predicts response rates, and is a better alternative than going in blind with a new, foreign format.
Convert appeals to evergreen format. In direct mail, this is a tried-and-true method. Buy your direct mail material in bulk and use similar copy outlines for different campaigns. Allow room for variable copy so the content remains fresh and eye-catching but save on time and cost of production.
Reevaluate postage treatment. We may not realize when the cost of 1st Class Postage silently increases; performance may be stable, but our audience pool receiving 1st Class Postage remains the same. Reverify your audience by creating a cheat sheet to ensure that you're not spending more than what you're getting in return. Though small, it's effective!

Change Who You Target:

Refine your audience. Here are two ways you can sift through the crowd:

Explore predictive modeling. Though segment-level targeting can be helpful in some cases, it can be wasteful in others. Segment driven targeting takes a picture of the average outlook as opposed to the individual. It also only examines what happened previously, not anticipating what lies ahead. When we consider predictive modeling, we have a more individualized response: unique giving behaviors of a donor can be tracked, we can understand which donors should or should not be targeted, and we can predict likely future performances.
Understand channel mix. A donor's primary response channel is a telling data point to consider. In lower performing campaigns, you can increase your spend on direct mail to ensure a response in that single channel. Also, you're less likely to lose a digital-only donor as opposed to a direct mail donor — so finding the right time to invest in different channels is crucial.
Hungry for a second helping? Keep an eye out for more Quick Bytes from our nonprofit experts!
Get More Insights Into:
Digital Fundraising Fundraising Best Practices Nonprofit Trends