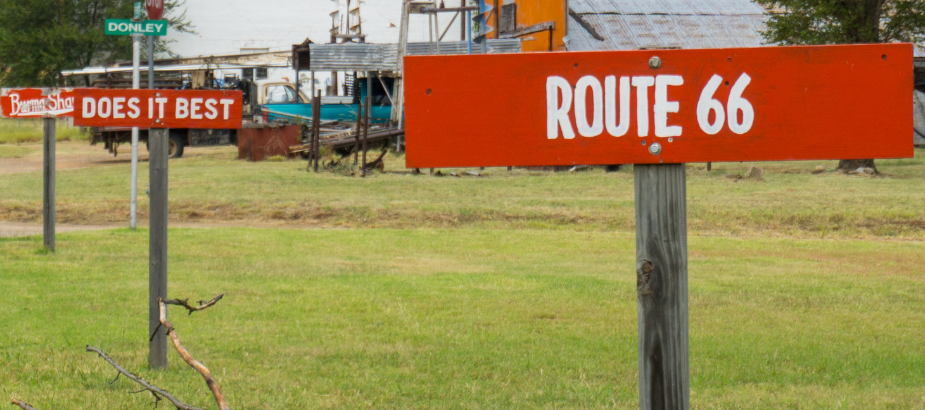 In marketing (and fundraising) it's well known that your audience needs to see and hear your message more than once before they will respond to your appeal for support. What's not so clear is just how often they need to hear it.
It's a safe bet that in today's crowded marketing environment, the number of times you need to reach your audience to stay top of mind has only increased over the years. Furthermore, your message needs to be ever more concise and compelling to break through the clutter, capturing your audience's attention.
Before online ads, social media, text messaging, and tracking pixels, the people behind Burma Shave had figured this out.
For those who may not recall, Burma Shave was a brand of shaving cream. While it disappeared from store shelves in 1997, their roadside marketing has lessons to teach even today. Their signs are now so integrated into the nation's road trip history that replicas were installed along historic Route 66.
It was simple really: To grab the attention of people driving on America's highways, Burma Shave would install a series of roadside signs several hundred yards apart. Taken together, they'd create a humorous rhyme, followed by a sign that displayed the brand logo.
The core concept holds lessons for us today.
As direct marketers and fundraisers, we tend to want to find a direct and immediate relationship between a specific appeal or ad and the resulting dollar raised. This helps us make decisions about where to invest future donor marketing dollars.
But the truth is, each time a donor or prospective donor sees "The Salvation Army" name, and even a small piece of your overall message, the cumulative effect builds toward recognizing the powerful social solutions that The Salvation Army brand represents. Just as each piece of the Burma Shave signs built toward greater recognition of their brand (and stuck with some, who eventually bought the shaving cream).
Specifically, how does this apply to us today?
Driving through town, someone sees a Salvation Army Family Thrift Store. They may see a social media ad or a post that a friend liked while scrolling through Facebook on their phone. At home, they find a piece of direct mail in their mailbox. While they are sitting at their home computer or on their phone, they may type "Salvation Army" in the search bar of their web browser and donate online.
The question is, which contact, which impression, or which platform was responsible for that gift?
It will likely be reported as being the result of a search campaign.
It's equally likely that's not the whole truth.
Every message a donor or prospect sees regarding The Salvation Army and its work contributes to giving in every channel. That's the enormous strength of The Salvation Army brand.
In today's crowded fundraising environment, with seemingly ever-increasing numbers of organizations competing for a share of each donors' wallet, a consistent, repeated message across all channels is more important than ever — even if you can't directly attribute individual gifts to one specific impression or channel. Something you need to consider when reviewing results and thinking about where best to invest your fundraising dollars.
Get More Insights Into:
Donor Acquisition Donor Stewardship Donor Behavior The Salvation Army Donor Cultivation