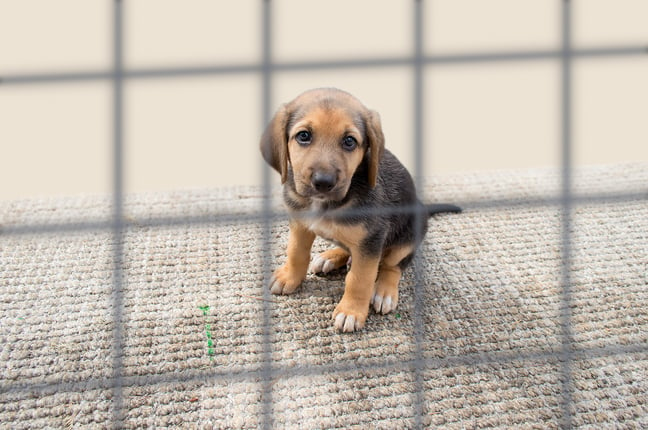 If you want to connect with an animal welfare donor, aim for the heart! Research shows that pet lovers, inspired by the bond they've shared with their own pets, are motivated by emotion more than reason or logic.
As fundraisers, it can be tempting to come at these donors with facts. After all, a staggering 1.5 million shelter animals are euthanized every year in the U.S. — a heartbreaking statistic. But the best way to motivate an animal welfare donor is by stirring their empathy and emotions, and good storytelling can raise revenue by doing just that.
Here are 4 tips for telling your shelters pets' stories to engage animal welfare donors:
1. Make a one-to-one connection with your donor.

Tell your donor the story of one pet who needed help. Even if the animal arrived as part of a litter or larger rescue, focus on a single pet and how she must have felt. Was she hungry, thirsty, or shivering with cold? Stir your donors' sense of empathy with details:

No food. No water. No room to stretch her little puppy legs. Ladybug was one of 20 scared, hungry puppies who had never experienced kindness. All she knew were the bars of her filthy, cramped cage.
2. Show the right photos.

This is key. But pets — especially sick or scared pets, like so many that you work with — can be skittish and hard to photograph. Be sure to:
Get down on their level. Pets are short! Photographing them from above will elongate their noses and distort their bodies. To photograph a pet, get on the floor, or lift them onto a table or cat tree to meet them eye-to-eye.
Show eye contact. This is critical for connecting with donors. A shy pet will cower from a camera, so approach slowly and be patient. Hold the camera in front of your face and crinkle a treat bag next to your head. Or, squeak, purr, or whine to get the pet's attention. Most will be curious and look your way. (Then, be sure to reward them with treats and plenty of gentle praise!
Turn off the flash. It will make a pet's eyes glow green. Instead, make sure the room has adequate light so your photos don't end up too dark or blurry
Show need. Pets who are wearing cute outfits, sleeping in a cozy bed, or look perfectly groomed don't look as needy as pets who are scruffy or wearing a cast. (But "before" and "after" shots can tell a compelling story!) Likewise, a pet who appears to be "smiling" won't tug on a donor's heartstrings like a pet who looks pensive or worried.
Need more tips on choosing the perfect fundraising photo? Click here to learn more about igniting your fundraising with an iconic image.
3. Know where to look for good stories.
The best fundraising stories show a great investment of time and resources: veterinary medicine, surgery, training, socialization, foster care, shelter, etc. You should:
Keep your foster families on speed dial. Chances are, they take in the sickest animals and witness the greatest transformations. They're going to have great stories to share.
Talk to medical, behavior, and adoption staff and volunteers — anyone who works hands-on with the animals and sees the most compelling cases
Remember: Happy adopters love to talk about how they rescued a pet. Encourage them to submit their pet's "rags-to-riches" story. Just be sure to stay focused on the beginning of their journey — the part of the story your donors made possible.
4. Put your donor in the story.
Your fundraising story isn't about the great work you do ... it's about the amazing things that can happen when your donor gives. So give them a starring role in the story, like in this story about Teddy.
When Teddy came to us, he was covered with wounds and dragging a shattered leg. The elderly beagle had been wandering the streets, alone and unloved.
But someone did love Teddy. You. Your gifts are why we can take in injured and abandoned pets, and give them the lifesaving care they need.
As an animal welfare professional, you do amazing work every day. Your donors love hearing about lives saved and happily-ever-afters. A well-told story can bridge the gap between your donor and your organization — and be a powerful tool for raising revenue. Keep up the lifesaving work!
Get More Insights Into: