You might be wondering, what is a Cooperative (Co-Op) Database?
Merriam-Webster defines COOPERATIVE as: An enterprise or organization owned by and operated for the benefit of those using its services.
Merriam-Webster defines DATABASE as: A usually large collection of data organized especially for rapid search and retrieval.
I define a cooperative database as: A great opportunity to cost-effectively expand your acquisition universe, reactivate your lapsed donors, AND gather insights from your current donors.
There are nonprofit organizations that are not comfortable participating in a cooperative database, but the positive outcomes outweigh the negative perception.
Here are 5 major benefits to participating in a co-op database.
Co-Op Benefit #1: Not Sharing Exclusive Donors
In order to have access to co-op names, nonprofit organizations need to participate in the database — meaning you share your donor's transactional data. This continues to be the biggest reason nonprofits do not participate in co-ops: They do not want to share their highly coveted donor information with everyone else. That is actually the beauty of the co-op! The co-ops will match their records with your donors, and if there are matches, only the transactional information will be added to the database record. If there are no matches to your donors, their names will NOT be added to the co-op. But it's important to note: If your organization has an exclusive donor, their information will not be added to the co-op database. On average 90% of nonprofit donors are not exclusive to their organization. Most people who donate give to 2+ organizations.

Co-Op Benefit #2: Donor Profiles
Who are your donors? Some nonprofit organizations might have a perception of who they think their donors are and use that to continue their marketing efforts. However, wouldn't it be nice to have actual demographic and transactional data on who your donors are? When participating in co-op databases, that is just the tip of the iceberg of information you can glean from your donors. I once had a boss who said, "Data doesn't lie." And he was right. Having this type of information on your donors will help with so many aspects of acquiring new donors: creative copy, list segmentation, and gift ask array — just to name a few.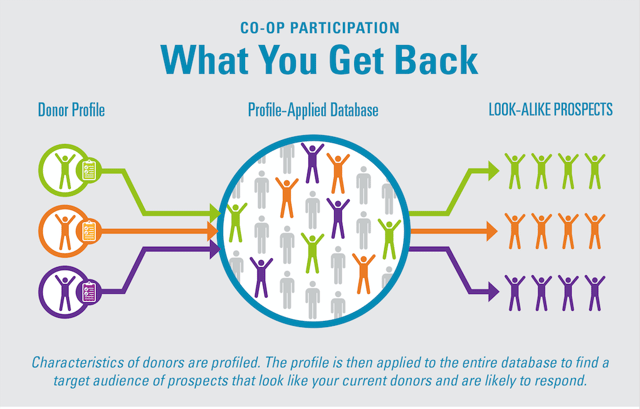 Co-Op Benefit #3: Large Universe

Co-op databases have millions of consumers, subscribers, and donors. Where else can you get this quantity of transactional names? With the information received from the Donor Profile, organizations can find look-alike prospects that are not already in their current donor pool. With the plethora of names in the entire database, this is especially enticing to regional mailers who typically struggle to find additional volume for acquisition mailings. This large universe with vast segmentation options is also a benefit for targeting a specific type of donor for instance: high-dollar donors or sustained giving prospects.
Co-Op Benefit #4: Not Just for Acquisition
Co-op databases are not just for acquisition efforts, but also a great resource for current donors, warm prospects, and lapsed donors.
An organization would typically mail all their current donors. Right? But, what if you wanted to test specific strategies or new messaging? These models can potentially flag current donors who are more likely to be a sustainer or respond to telemarketing. They can also flag those who might benefit from a high-dollar package or a planned giving strategy.
Lapsed donor databases would also be able to use the above models to determine which donor would be a good candidate to mail again. While RFM is a strong strategy, co-op databases can provide current donor information to help determine which lapsed donors are worth trying to reactivate.
Converting warm prospects can be like trying to find a needle in a haystack! Demographics for this group can be all over the place. Instead of mailing the entire file, maximize your dollars and use a model to flag those who are more likely to respond to your direct response marketing efforts.
While all of these models sound fantastic, there are minimal costs involved to create them. And sometimes, if the volume isn't large enough, modeling names might not be a cost-effective strategy.

Co-Op Benefit #5: Cost-Effective

Speaking of cost, historically, CPMs (cost per thousand mailed) for co-ops tend to be lower than other direct-mail donor files. Why? Co-ops have your current donors, lapsed supporters, and event attendee names, and can suppress those when ordering names through the co-op. Therefore, dupe rates are much lower — which positively impacts in the mail costs.
Overall, co-op databases can provide a lot of value and volume, which is a hot commodity!
---
This is the fourth post in a seven-part series about WIN — new donor acquisition, warm prospect conversion, and deeply lapsed reactivation. Subscribe to Heroic Fundraising to have fresh fundraising insights delivered to your inbox monthly.
Other Series Posts
Get More Insights Into: