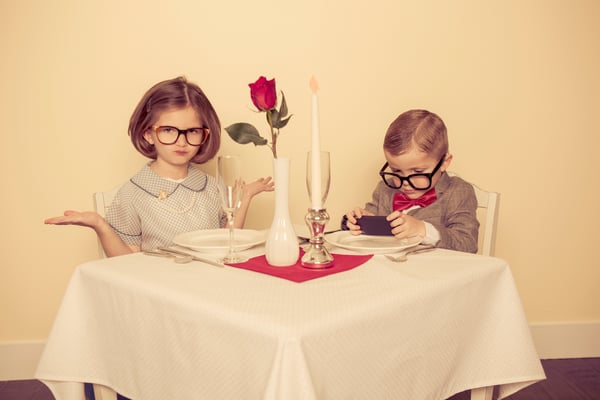 To this day, some fundraising marketers still think of direct-response fundraising as only direct mail. They relegate media like radio and TV, face-to-face, and events, plus newer media like email, SEO/SEM, social media, and online web fundraising, into separate silos. They even go so far as to place them under different budgets, ascribe different goals, and attribute the subsequent donations to different sources.
Worse, they see all direct-response donors as low-dollar donors, disassociated from the high-value donors who are traditionally cultivated by development officers and board members on a personal level.
Here's the problem with that thinking: There's only one very human donor reading your message. The compassion that drives a donor to make a $25 gift is no different than the compassion driving another to make a $25,000 gift. Their wealth varies. Their preference in giving channels varies. But their behaviors are predictably narrow because they are human beings.
And from the donor's point of view: There's only one organization who speaks to her via the mail, email, online, and in broadcast PSAs, but who nevertheless is a single entity with a single voice and mission.
Here are 7 things you need to know about the science and art of fundraising:
Fundraising = Science + Art
Because direct-response fundraising campaigns have a specific cost and target a precise number of eyeballs at a specific time, they are entirely measurable. Unlike their marketing brethren in communications (branding and advertising), fundraisers are accountable for the success or failure of each of their campaigns. They're beholden to the results.

And there's nothing like accountability to place the focus squarely on the science. By "science," we refer to the interpretation of data in direct-response fundraising (and all marketing for that matter) that rolls up under the broad term of analytics.
The Science of Data
For decades, direct-response fundraising has used a number of reliable metrics that shed light on how donors respond to a fundraising campaign. Essentially, these metrics fall into broad categories that describe recency (time elapsed since the last gift), frequency (the rate of giving across time), and monetary (the amount of the donor's gift).
The Science of Modeling
Media and list specialists also use RFM (Recency, Frequency, Monetary) metrics to predict the success of cold prospect lists and media audiences. An increasing number of list and data aggregators are creating algorithms in their databases that can execute sophisticated models for their clients. These models can predict how donor files will most likely respond to specific appeals.
The Science of Testing
Depending on the campaign goals, analysts and strategists can use the metrics to set up tests to determine how donors or prospects will respond to a wide variety of variables: offer, story, format, cadence, etc. Adhering to the standards of the scientific method, they control their tests so single variables can be measured and evaluated and, if successful, implemented on a large scale so future campaigns can be improved.

That said, hard data science alone is insufficient for most contemporary fundraisers. That's because donors are not numbers, not RFM analytics, not predictive models. They are human beings.

The Art of Donor as Hero
Donors react emotionally to the stories we tell them. And unlike the pay-off they receive as consumers (a product or service that gratifies a need or want), the pay-off they receive as a donor is a sense of well-being — the "warm and fuzzy" feeling that comes along with an act of charity.

This is where the art of fundraising comes in. It starts with a premise: Heroic human hearts are necessary to help heal the world.

And that premise has a corollary: Heroic donors are nourished by the act of giving, which satisfies an essential human need.

It is important to remember this simple premise as you craft your messages to your donors. When it comes to talking to your donors, it's about positioning them (not your organization) as the heroes in your story. Their support (not your staffers) feeds the hungry. Their money (not yours) funds cures for disease. Their gifts (not your volunteers) help rescue abused animals.

The Art of the Creative Equation
It is important to understand the Creative Equation: Resonance + Demonstration = Motivation.

Every fundraising appeal comes down to two basic assumptions for an organization. First, that the problem your mission addresses is overwhelmingly compelling

—

that it resonates in the hearts of your prospects and donors. Second, that you are unquestionably the best option for its solution. And that you can demonstrate this in the brains of your prospects and donors.


The Art of Finding the Balance

Assuming that your donors are positioned correctly as heroes in the case for giving that you make, you must then determine your sweet spot — the balance between resonance and demonstration — which is necessary to motivate donors to give.

This balance varies from organization to organization, and within each organization from constituency to constituency. For example, organizations with strong brand awareness may require less resonance than smaller, lesser-known brands, who need to amplify the personal emotion of their appeals via stories that narrate a single person's (or animal's) plight.


Science and art. Resonance and demonstration. If you want to reap the rewards of fundraising, it's important to maintain perspective along the path and find your balance.
Fundraisers have long sought to find and cultivate those with heroic human hearts who want to turn their compassion into action. Along the way, fundraisers have also learned lessons, honed skills, and crafted techniques that — in the end — are
framed by basic human behaviors and motivations.
Get your copy of the complete compendium of tried-and-true tactics for conquering the fundraising frontier, written by TrueSense Marketing's fundraising experts.
Get More Insights Into:
Fundraising Resources TrueSense Culture Fundraising Best Practices