"Your father has never passed a kettle without putting money in it." That's what my mom used to say every holiday season. I would witness it myself. Growing up in the suburbs of Pittsburgh, The Salvation Army was present outside the local stores, and I would watch as my dad religiously put money into the classic Red Kettle. It was just something he did. It wasn't until years later when I started working at TrueSense — and servicing Salvation Army accounts — that I asked my dad why he was so loyal to the organization.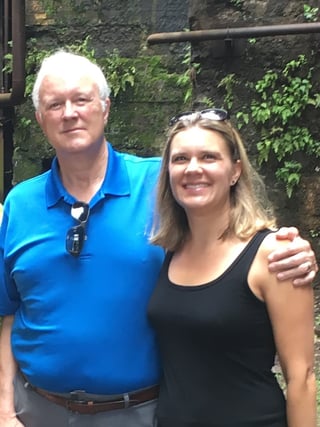 Account Director Roberta Helmstadter with her dad
He told me the story about my Uncle Bill — my favorite uncle — and how he survived Hurricane Camille in 1969. He was in the Navy Seabees and stationed in Biloxi, Mississippi when the hurricane hit. The area suffered massive devastation from the storm. When another aid organization came to help those affected, victims were told they had to pay for basic items such as blankets and clothes. In contrast, The Salvation Army disaster relief trucks came to help and assist those in need without asking for money. They started passing out anything they had at no cost.
My dad said he has always remembered how The Salvation Army helped his brother when he lost so much. That is why he will give faithfully to this compassionate organization.
After working as a fundraising partner for The Salvation Army for nearly 10 years, I've seen this type of generosity time and time again. I've witnessed it firsthand while visiting Corps and watching the officers in action. I've attended countless appreciation dinners with speakers sharing their personal stories of how their lives have been changed. And through reading The Salvation Army's emotional newsletter content, I'm reminded how this organization gives so much to those who need it the most.
The Salvation Army's kindness has been a part of my family's story, and I want to continue that tradition where I can. Last year, my son's kindergarten class (12 boys!) had a day where parents could come and speak to the children about their profession. I decided that sharing a PowerPoint presentation may be too much for the kids, so I opted for a stuffed "Kroc" crocodile and a printout of The Salvation Army's shield logo. While few children recognized the iconic symbol, I shared all the good work The Army does, hoping that I influenced this new generation in some small way.
I, for one, know that my family's Salvation Army story is still being written.
Get More Insights Into: