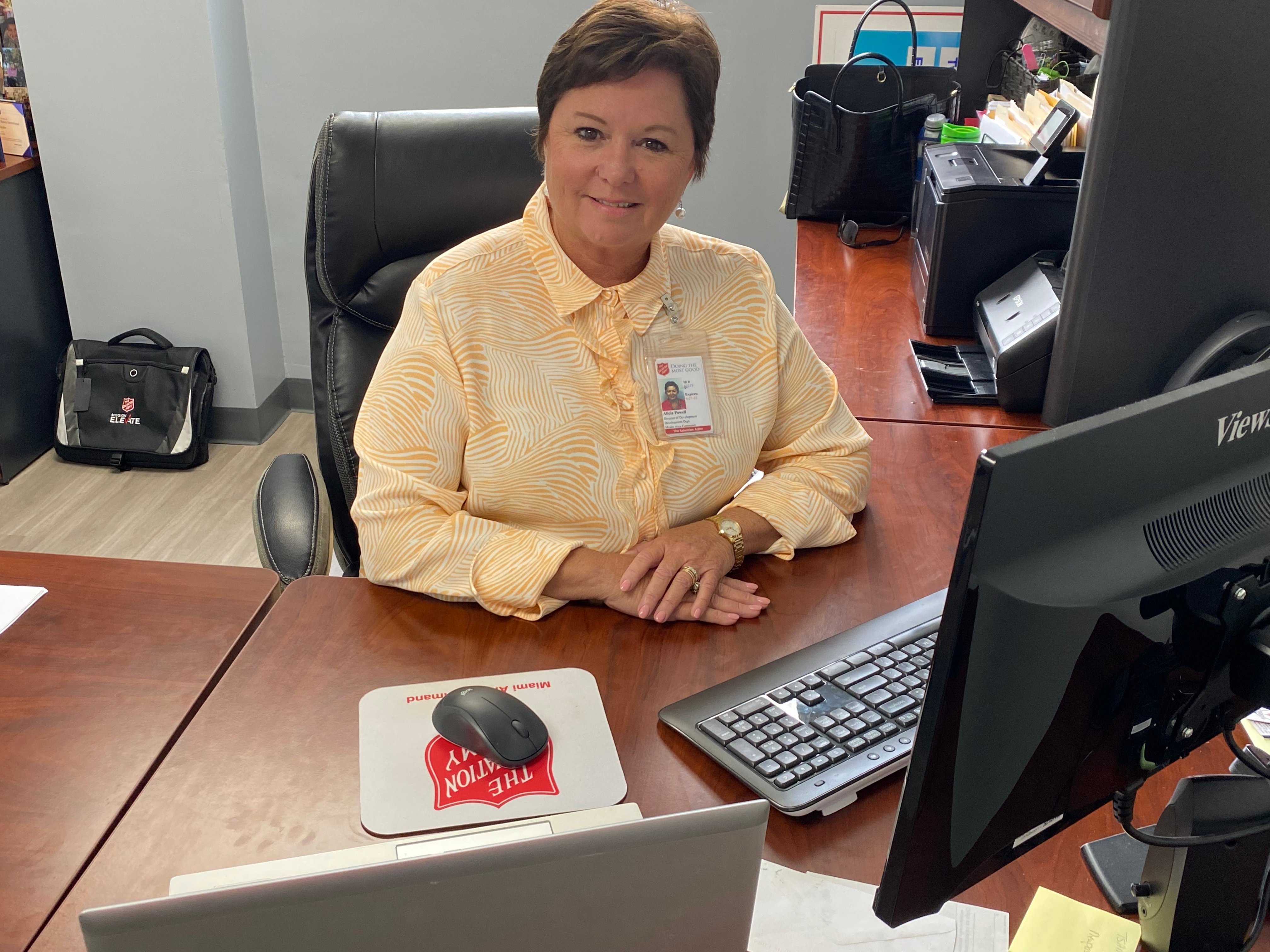 I have lived in South Florida for a combined 28 years. I graduated from Florida International University in Miami and started my career working at a local nonprofit in Fort Lauderdale. In the past 11 years with TrueSense Marketing, I have had the pleasure to work with The Salvation Army in Fort Lauderdale, Palm Beach, and Miami. Working with local nonprofit organizations within my own community is important to me. During the last two years, the Miami Area Command has made an incredible impact with not only the local community, but with their fundraising efforts with major donors, foundations, and corporate partners. I wanted to take the opportunity to introduce Alicia Powell, Director of Development at The Salvation Army Miami that serves Miami-Dade County. And to highlight their recent success!
How long have you worked with The Salvation Army?
AP: I moved to South Florida in September of 2020 after my husband retired from Gulfstream Aerospace. In October of that same year, I began my work as the Director of Development for Miami Area Command.
Miami is incredibly unique. What has surprised you the most about the community and/or donors?
AP: Miami is very unique, with cultures from all over the world living and working in this fast-paced city. I have found friends and neighbors in the community to be very welcoming and very generous. Having never lived in such a large metropolitan area, it has been heartwarming to see the community collaborate and work together. Homelessness is a major problem in our country, and especially here in South Florida. We are working tirelessly to provide shelter, food, access to health care, and so many other services. We have a 258-bed shelter in our Center of Hope. Clients living in the shelter are given the basic necessities to survive, and are also given a chance to receive intensive case management — which is critical to their overall growth toward becoming independent, and hopefully breaking the cycle of generational poverty.
You and Major Roy Williams (and many others) have worked diligently to reintroduce Miami Area Command to the community. What have been your biggest challenges?
AP: I feel the greatest challenge that I faced as the Director of Development was building a cohesive Development Team with the vision of spreading how The Salvation Army Miami makes an impact every day of the year. Many have heard of The Salvation Army, but don't have a clue as to the many ways in which clients are helped 365 days a year. In order to gain new donors and retain our loyal donors, it was imperative that we connect with them. Thankfully, the Development Team is made up of caring, hardworking, devoted staff, and we realize funding of the many programs depends on our work. Major Williams and I immediately set meetings with city leaders and with corporations that have always supported The Salvation Army in Miami. We wanted to share the amazing work that happens in our four other locations as well as at Miami Area Command. In 2021, we served over 1.5 million meals to our neighbors in the community and living in our shelter. Food insecurity is very real, and with food costs rising exponentially, we also feel the need to increase our reach. Today, The Salvation Army Miami is active on all social media outlets, emails over 8,000 constituents, and gives tours of the shelter and food pantry frequently to demonstrate to our donors how their donations make an impact.
What have been your biggest triumphs?
AP: Major Williams and I began inviting city leaders and corporate sponsors to take a tour of the Center of Hope. As COVID-19 cases began declining, tours of the facility have dramatically increased over the past six months. When people see firsthand how their dollars are being used, it makes a significant impact. We have women, men, and children living in the shelter, we give away 70-80 bags of food to the community Tuesday through Friday every week, we have an onsite health clinic so that our clients can receive affordable health care. Our thinking is "healthy clients can make healthy choices."
What are the new programs Miami Area Command has started or restarted in the past few years you have been there?
AP: Our Pathway of Hope program is new for Miami, and we have 12 families in the program now. Families coming into the program must be ready to make life changes and set goals. Once they set goals, they begin working with their case manager, and life changes start happening. Whether it is acquiring vital documents for jobs, school, or housing, case managers walk with them through this process. The ultimate goal for our families is to acquire housing and become independent. Again, breaking the generational poverty that has been a part of their family.
We know that fundraising is imperative to enable services to be provided to the most vulnerable in our community. How has Miami-Dade's fundraising strategies changed from past years (i.e., your foundation grants, corporate grants, database hygiene, etc.)?
AP: Fundraising has increased with significant major gifts that were thoughtfully secured over the past two years from donors who have had a strong affinity for The Salvation Army for many years. We also focus on writing grants that will support programs and services; inviting community leaders and donors for tours; and ramping up all social media, email activities, and marketing campaigns throughout Miami-Dade County. We now have a volunteer coordinator who is solely responsible for recruiting volunteers to help support programs. And now, over 450 volunteers are registered and are giving their time to help make a difference in our community. Volunteering is a great way to see firsthand all of the many facets of the work that takes place here every day.
What are you most proud of with regard to Miami Area Command?
AP: Once we secured the Lowe's 100 Hometown Grant, the Miami Area Command began taking on an entirely new look and feel. Before the refurbishment of the building, Miami Area Command was in desperate need and appeared to be a very sad and deteriorating facility. Then, the exterior was painted a fresh new white with gray trim, interior shelter rooms were painted a soothing blue, new polished concrete floors replaced the ragged, chipped, and scuffed tiles. The momentum to continue the change was definitely felt throughout the building. Programs were growing due to increased funding, key staff vacant positions were filled, and under the leadership of Major Williams, The Salvation Army Miami began to shine. The camaraderie of all staff in working toward one goal of helping those in need is now clearly felt and represented throughout. Having all staff onboard was key to turning the fate of The Salvation Army of Miami around to a vibrant organization that indeed will continue for many, many years to come.
Get More Insights Into: