Wink, wink. OK, now that I have your attention, I wanted to point out the obvious: Partnerships with major sports teams are of immense value to nonprofit organizations.
We see this every Thanksgiving, and are grateful to the Dallas Cowboys organization for their display of partnership with The Salvation Army. The visibility and social media buzz are not just good for credibility, they are good for income. With over a million charities in the country vying for the attention of donors, partnerships with professional sports franchises — and the prominence that comes with it — can help us stay visible to generous donors. Many Divisions and Commands enjoy these relationships, and note that the benefit to the sports team is no small matter either.
"Partnerships with sports teams like the Golden State Warriors and the San Francisco Giants bring visibility and prestige to The Salvation Army locally. The marketing firepower the sports teams bring is invaluable. It helps us reach out to a fresh audience and can lead to high-profile program support from players and executives. Foundation support from the teams usually kicks in to help fund targeted Salvation Army programs as well."
— Ernst Bauer, Director of Development, The Salvation Army Golden State Division
Last year Inc. Magazine wrote about the benefits of corporate-charity partnerships: "Charitable donations help better your community, and the public will notice if a company is making a real effort to improve its surroundings." If you don't already have a partnership with a team, it could just be a matter of asking. Who knows, you might get the chance to stand on the sidelines with your favorite team.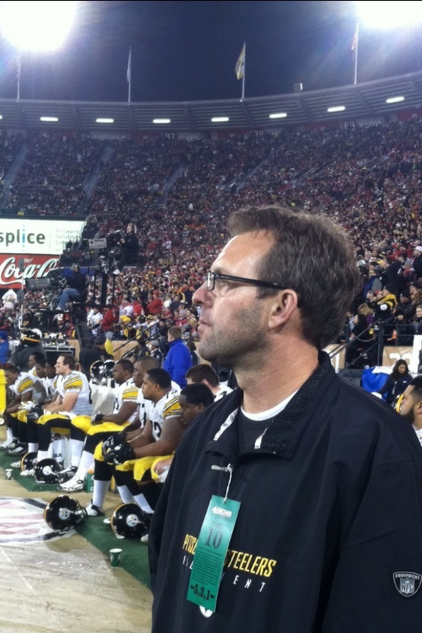 Shawn Reed on the sidelines at a Pittsburgh Steelers game.
We want to hear from you! Who is The Salvation Army's favorite NFL team? Photos of you with your team colors, mascots, and decorated offices will appear in the next issue of The Ringer!
Get More Insights Into: