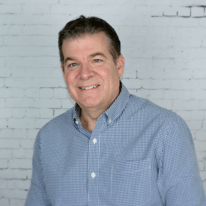 January 15, 2017 was a great day for TrueSense Marketing. It was the first day John Thompson joined our team as Chief Creative Officer.
John's education in fine arts, work with political direct mail guru Richard Viguerie, 17 years as owner of Direct Design as well as time spent at several national fundraising agencies, has all prepared him perfectly for this role.
I'd heard a lot of great things about this guy, so I called him up to hear more firsthand. Read along to see why we're so lucky to have him on our team!
Why did you choose to work at TrueSense Marketing?
I love the culture here. I'm very impressed with the leadership, energy, and talent pool. I knew or have worked with many people at TrueSense already, in other capacities, and I respect them a lot.
What do you think about TrueSense so far?
I'm loving it! The creative team is terrific. The folks I've gotten to know here are really talented. Strategic thinkers, great craftsmen. They really know what they're doing. From a creative point of view, we're poised to take our agency business to the next level.
My goal is to organize our various creative assets into a unified strategic creative vision. Organize our thinking around a strong agency brand that includes creative excellence. Making it bigger and more impactful; really being a value add.
What excites you about your work?
The dynamic creative team that I get to work with every day. I think I feed off their energy, their insights. They're very smart. They respond so beautifully to challenges. They are totally oriented toward client satisfaction and delivering a product that enables our clients to meet their mission's needs.
I do love the marketing challenges that each client vertical faces. Each is different. It makes for an interesting experience in that regard.
What do you see in the future of direct marketing creative?
In my opinion, it's multichannel integrated solutions using both direct and non-direct response media.
We don't know where the next technology will take us. Direct marketing is so much more than mail, and not all the communications channels we use (or will use) creatively are traditionally "direct response." Today, donors may want to receive info in one channel, but may not want to transact their gift giving in the same channel. Take social media, for example. It's not really a direct-response channel, but it can be very powerful in its ability to motivate donors to eventually give. Email is certainly a direct-response channel. Web giving and online advertising could drive direct response, but it could also raise brand awareness, or it could stimulate site traffic and subsequently organic revenue growth. Phones are a direct-response medium, but could also cultivate and affirm relationships without a direct ask — especially for higher-dollar donors. The lines are blurring, but clearly, direct marketing — in all its responsive and non-responsive media — is not going anywhere, and is only getting more diverse and complex.
And I certainly don't think that mail is going anywhere for the time being. Recent data suggest Baby Boomers and Generation X still interact with organizations they like to support through the mail. That's one of the ways they inform themselves of where to give. But direct mail may eventually become more of a communication medium — a driver to some other kind of giving channel. By the time Millennials age and have more discretionary capital at hand, this might change even more radically. For now, direct mail will continue to be the strongest channel for fundraising, but in the future, the angles we take with it will certainly change as new generations move into their prime giving age. As creatives, we need to figure out those angles.
If you could give one piece of creative advice to The Salvation Army, what would it be?
The Salvation Army is blessed with a 100+ year-old brand — which is both a blessing and curse.
The curse is that sometimes, organizations with such a strong brand lose sight of the impact that brand can have exposing need, and instead conflate their brand solely with mission outcome. It gets down to figuring out what I call the creative equation:
Resonance + Demonstration = Motivation
In other words, the proper balance between 1) expression of need, which resonates in the hearts of Salvation Army donors, and 2) the demonstration of outcome, which rings a bell in the donors' heads that their gift is a best investment. That's the full scope of what The Salvation Army brand can convey — and how it can motivate donors to give.
There's a different balance for each organization. However, The Salvation Army has incredible brand power, and therefore has a unique creative equation among human service organizations. My creative advice is this: Let's find the proper creative equation, and not assume what that brand strength is. We still need to resonate and demonstrate. We, as nonprofit marketers and fundraisers, can't accept assumptions without testing them.
How would you guide a Salvation Army client that wants one appeal over another that TrueSense recommends?
TrueSense is an agency serving our clients. It's important to meet that primary responsibility before all others. As creatives, we serve them by recommending impactful creative solutions based on best practices, experience, and data driven by performance or research. We have a responsibility to advise, recommend, and defend strategically strong creative approaches that are designed to move the needle in their program.
That said, there are times (once we've made our case) when we need to exhibit sensitivity and respect toward our clients' opinions and preferences. And if they hold to what I call a "client imperative," even in the face of our recommendations to the contrary, we need to step back, take a breath, and reset. Because warm client-agency relationships are rare and precious commodities in our business.
We continually need to ask ourselves — and our clients — "How does it feel to work with TrueSense?"
Agencies can drive terrific campaign success metrics, but still lose a client. Why? More often than not, it's because the relationship went south. Stubbornly and repeatedly defending creative proposals in the face of client wishes is one reason why relationships fail. What makes for good relationship and good performance? Making or even defending our case (once), respectfully disagreeing if a client imperative prevents us from executing on it, then moving on in as positive, intentional, and effective a way as possible.
Get More Insights Into: