Salvation Army donors are always there to do their part to help neighbors in need. And since the pandemic really took hold in March 2020, both current and lapsed donors have been increasingly generous with their support. At the same time, the trust built over years of service by The Salvation Army led many new donors to give to help neighbors — those who found themselves out of work or struggling to put food on the table and pay their bills.


Divisions ended Fiscal Year 2020 up 35–40% in revenue, receiving 28–30% more gifts.
Between October 2020 and December 2020, new donor acquisition revenue was up 59.8%
Donors' responses and their trust in The Salvation Army continues to be simply amazing.

But what can you expect moving forward? Will we continue to see a lift in results? The short answer is yes — though not at the levels we have seen over the last year.
The pandemic has affected everyone in ways large and small — from social distancing and wearing a face mask in public, to lost jobs and lost businesses, to losing friends and family. Times will likely be tough for a while, as the Congressional Budget Office estimates that the labor market will not return to pre-pandemic levels until 2024.*
That is why continued support is critical, which needs to be communicated to donors as we move through the last months of FY21 and into FY22.
As progress is made in vaccine distribution, and pandemic restrictions ease, there may be a lessened sense of urgency among donors. Some donors acquired during this time of crisis will stop giving.
While it is difficult to predict, we can make some assumptions.
Using FY19 as a baseline for comparison, assume that The Salvation Army has a 5% increase in gross revenue, year to year. A comparison of revenue in each year might look like this: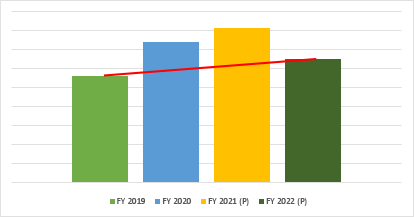 FY22 would finish approximately 16% higher than the FY19 baseline year, but behind the extraordinary revenue of both FY20 and FY21.
There are many external factors that could impact results by the end of FY22. But the biggest influence will be how donors respond to the ongoing needs of families and neighbors who will be struggling to recover from the financial impacts of the pandemic.


*The CBO also expects unemployment to fall to 5.3% by the end of the year (down from 6.8% in December), but noted that employment won't reach pre-pandemic levels until 2024.
Get More Insights Into: