In a recent The Ringer post, we posed three questions to our readers. Read on to learn what your peers have to say!
1. When you accepted the call to officership, there may have been duties and responsibilities you were not aware came with the job. As you consider your time in the uniform, some moments are better than others … Please rank the duties you have in order of most favorite to least favorite.
Business Management: running the Corps/Command/Division duties you've been assigned
Overall Ministry: preaching, teaching, sharing the gospel, camp ministry
Development: fundraising/asking for money, public relations, advisory board
Conflict Resolution: personnel/HR, team management
In a landslide, 62% said their most favorite duty is Overall Ministry.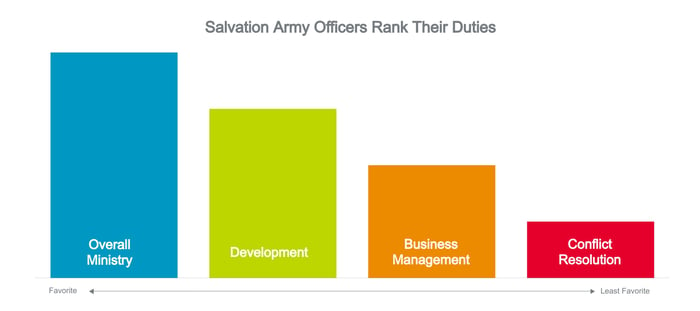 2. If you could sit across the table from your cadet self, what's one piece of advice you would give?
Get a mentor officer right away. Someone who can not only walk you through officership details, but who can encourage you, challenge you, and hold you accountable in your faith.
Your relationship with God must come first. Your ministry will thrive out of the overflow of your walk with God and it will fail without it. Be professional and do everything required of you as unto the Lord. Do not hide in your office. You must engage your community. When they see you are part of their community, they will support you.
Always have a pastor's heart no matter how difficult, busy, and hard you are, or how good you are at a high position. • Continue to remember and be faithful to your calling. It isn't easy, but it is worth it!
Be yourself — try your best — leave the rest in God's hands.
Don't get worked up about Christmas. You will be busy, put all your effort into it, but do not focus on the Christmas Goal. God knows what you need, and He will provide in His time. Also, be in the moment. When you are leading meetings, be that leader at that time. When teaching, be the teacher at that time. If doing studies, then be a student at that time willing to learn. When at home with family, BE AT HOME WITH FAMILY, and leave work at the office. Work will always be there, so be sure you are being what is needed at the moment.
3. If someone gave you a check for $1 million today, unrestricted, how would you spend it?
We would set up a matching gift to launch our $4 million capital campaign. We already have donors in place but have yet to secure a lead gift.
Split into reserves for future expenses. Buy new equipment for programming. And hire new staff.
I'd start up programs in our community that addressed family development as a whole. A family night each week that had dinner together as a family, a combined family activity, and then some individual life skills classes dependent on age groupings (budgeting, cooking, sewing, laundry, music, etc.). This would be a chance to grow the family unit stronger together with some practical tools and skills.
I would look into what would best serve our community. It may be getting a new building that better suits what we do here. I might get a refrigerated truck for food pick-ups. If it went toward programming, we have many that need rental assistance, so I would allocate some of the funds to that, if the capital projects were completed.
Hire youth programming staff. There are so many kids that need extra love and attention, but without a good congregation, this ministry is left up to the officers. If we had a vibrant kids program, the Corps would grow, and then future leaders could come from the congregation.
I would put a new roof on our buildings, upgrade our buildings as much as possible (including quarters that need a new roof). Put new floors on the required areas. Implement new programs for families in need, especially for children.
Thank you to all that contributed to this survey! TrueSense Marketing has worked with The Salvation Army for over 55 years, and we are still learning more about your work, your heart, and your passion. Your responses are valuable information that allows us to better learn about you as well as share your powerful insights with others.
Get More Insights Into: