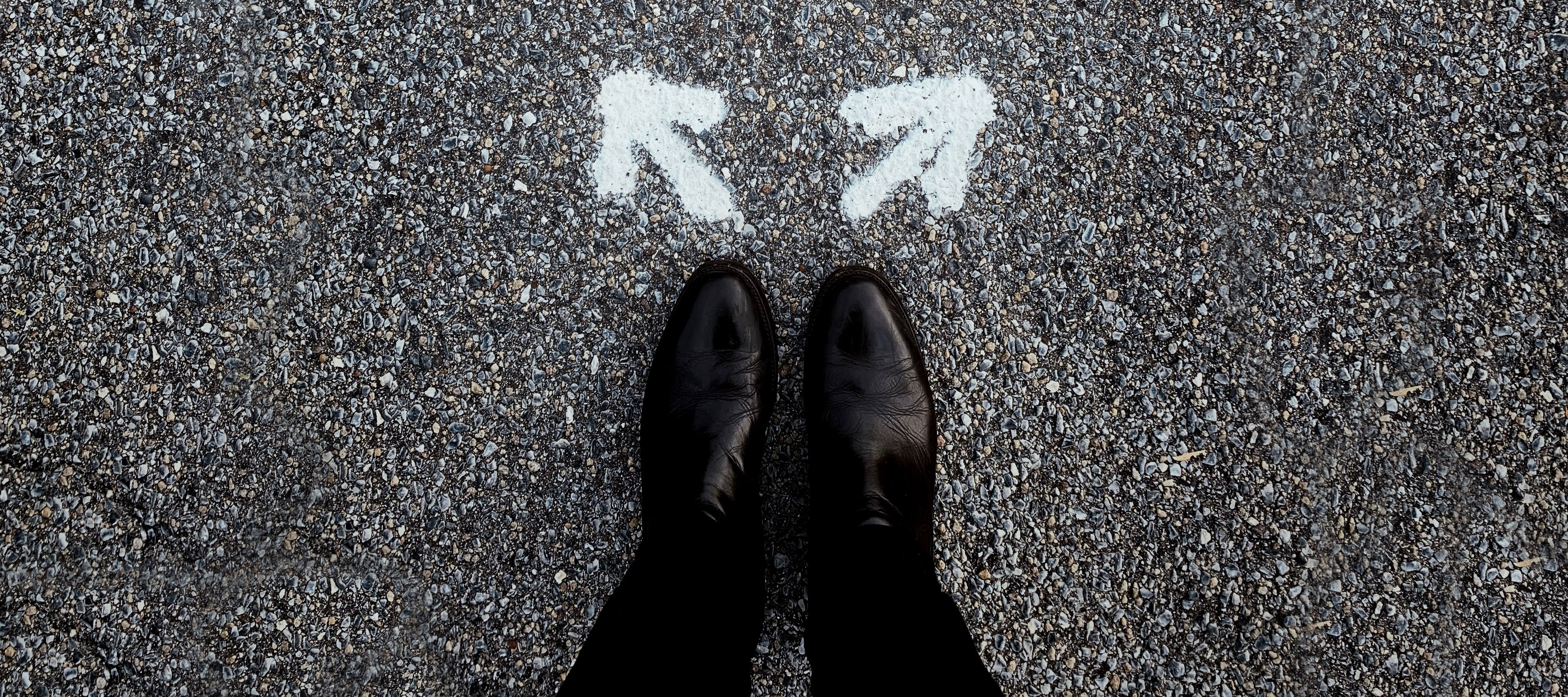 You're looking out over the vast fundraising landscape, and the terrain keeps shifting. What's a savvy fundraiser to do?
It's true that there are more choices than ever for donors. That's why successful marketing integration doesn't direct traffic toward any single channel. And that cross-channel experience must be a seamless one.
While the number of available channels has grown (email, search, social media, mobile/GPS tracking), costs and use of traditional channels (print, direct mail, and broadcast) have changed.
How can you navigate when the map keeps changing? Here are 3 tips for multichannel integration success.
Take a single view of your donors.
Make it easy: Use a marketing automation platform.
Create a consistent experience.
Exploring Multichannel Acquisition Without Fear
Think about your short- and long-term acquisition goals. It can be scary to think about sinking revenue into a fundraising channel that doesn't promise immediate returns. But getting those new donors is incredibly important for the health of your fundraising program.
Some channels, like DRTV and radio, have high-dollar, long-term value, but they may hurt your short-term net income. As you craft your donor acquisition plans, be honest about your risk tolerance versus the potential fundraising income each channel may promise.
Regardless of the channel(s) you decide on, they need to be integrated. For instance, appeal messaging on the website, in email, and in social should ideally align with the direct mail that just showed up in your donor's mailbox. Let's take a closer look at the value in/value out equation for each channel: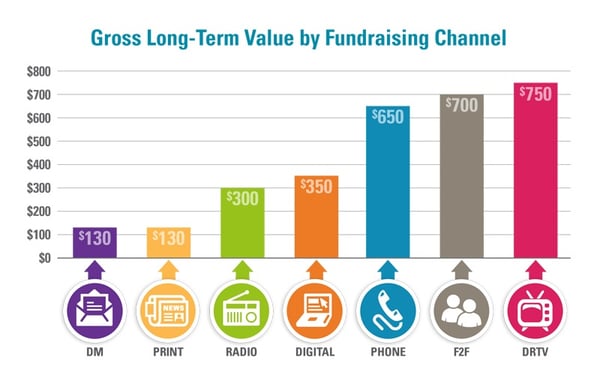 Direct Mail Fundraising

The fundraising channel with the least amount of risk and the smallest comparative investment is direct mail. This is why many organizations have large and mature direct mail programs, with large donor universes.

Those large universes enable successful charities to constantly test creative, offers, and list strategies (at relatively low quantities and low costs) with statistical confidence. This means their investment risk in that testing is minimal compared to many other channels.
Digital Fundraising

In addition to serving as a direct-response acquisition channel on its own, the digital channel supplements your acquisition efforts across all other channels and helps to ensure consistent messaging.

Optimize your Search Engine Marketing (SEM) and Search Engine Optimization (SEO) strategies, and if you qualify for a Google Grant, use it! The point is, donors who are introduced to you in other channels should be able to easily find you, learn more about you, and eventually give to you online.
Telephone Fundraising

More expensive than direct mail and digital, phones are nevertheless the best channel for warm prospect conversion of volunteers, pet adopters, grateful patients, alumni, lapsed donor reactivation, and so forth.

Phones are also a great way to reactivate donors originally acquired in broadcast channels, because most usually called to make their initial gift.

High-dollar donors are also receptive to telephone fundraising. The one-to-one personal element of communication reinforces a strong relationship with the organization.
Print Fundraising

Like direct mail, print media acquires donors with good long-term value. Not all print channels are successful, however. The greatest, most consistent performers in the print channel are free-standing inserts (FSIs) that appear in paid, subscriber-based newspapers on weekdays. Contrary to what most would think, FSIs in free community newspapers are not generally successful, nor is on-page advertising in newspapers, except in the case of disaster fundraising.
Radio Fundraising

Most nonprofits find radio to be a difficult direct-response fundraising channel due to the upfront investment needed to make radio "work," which may require testing of different radio station formats, fundraising formats, and calls-to-action. To fully benefit from radio, a 24-hour call center must be engaged to accept donations. Live radiothon formats usually perform best, but many stations limit campaigns to recorded spots only.

Because of the lack of flexibility and formats, many nonprofits find that radio is really only successful as a branding tool.
DRTV Fundraising

Direct Response Television (DRTV) is one of two channels that are designed to acquire new monthly donors. These monthly donors (or sustainers) are committed to your mission and have exceptionally high long-term value. Just like with radio, DRTV fundraising requires a good call center that's available 24 hours a day.

Successful DRTV fundraising ads do not follow the typical format of a television spot, but should be styled more similarly to a documentary, and should be two minutes long. The spot needs to be emotional, and should verbally and visually depict the gulf between the need and the offer.

Many charities are restrained from DRTV fundraising because of the high investment required ($150K to $250K for the production of the spots and $50K to $75K for media costs, compounded by the cost of testing, which is almost always required to optimize the channel's performance).
Face-to-Face Fundraising

Like DRTV, face-to-face (F2F) fundraising is designed to acquire monthly sustainers. Sometimes known as street canvassing, F2F has low set-up costs, and most canvassing companies only charge for donors who are acquired after they make their second gift. The personal, conversational connection between a well-trained street canvasser and the prospective donor cannot be matched. Many canvassers will augment their conversations with an iPad that shows videos and testimonials, increasing the emotional engagement. F2F maximizes two-way communication and emotional impact.
Get More Insights Into:
Donor Acquisition Multichannel Fundraising Fundraising Best Practices